(Auszug aus der Pressemitteilung)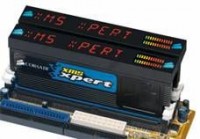 Fremont, CA (February 2, 2006) – Corsair® Memory, Inc., a worldwide leader in high performance memory and cooling products for enthusiasts and overclockers, today launched XMS™-3200C2 XPERT™ 2GB memory kits for advanced users who demand performance, aesthetics and functionality in one package. Corsair's proprietary XPERT memory is the industry's first intelligent memory module that monitors and displays critical performance parameters. Creating a category of its own, the XPERT series raises the bar on enthusiast memory.

Based on carefully selected RAM and individually tested for compatibility, the new XMS-3200C2 XPERT is guaranteed to run at 400MHz with low latencies of 2-3-3-6. With the growing number of PC games and video-editing applications that benefit from additional system memory, Corsair designed the new XPERT to maximize memory density while minimizing latencies.
Dubbed XPERT, this new technology uses an integrated micro-controller and embedded sensors to measure voltage, temperature and frequency on the memory module. Each of these parameters, along with a user-programmable scrolling marquee, can be shown on a big alpha-numeric display that is a part of the memory module.
"The XPERT series continues to be Corsair's flagship product that demonstrates our leadership position in the industry. Catering to the growing demand for 2GB of system memory, we want to offer a complete product line up that includes the XPERT series," said Richard Hashim, Director of Product Marketing at Corsair Memory. "Our in-house test results show a performance boost of up to 30% with 2GB of memory in memory hungry applications like Battlefield2. Combine the high memory density with real-time parametric display, the new XPERT brings the users to a new level of PC experience," continued Hashim.
XMS-3200C2 XPERT Features
184-pin DDR unbuffered memory
Individually tested at 400MHz / 2.75 volts for optimal performance
Supports low latency timings of 2-3-3-6
Legendary Corsair reliability
Lifetime warranty
Available immediately through Corsair's authorized distributors, resellers, e-tailers and retailers worldwide, the new XMS-3200C2 XPERT is available in dual channel kit.