(Auszug aus der Pressemitteilung)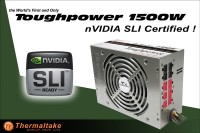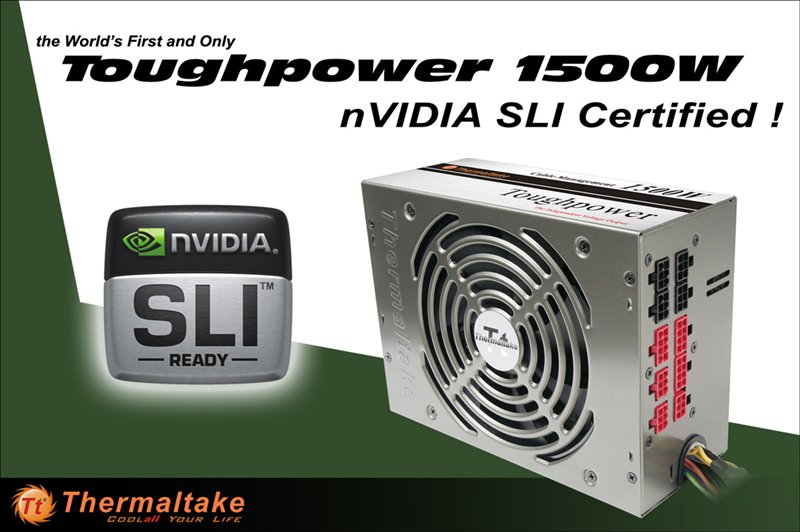 November, 2007 – Thermaltake Technology announces today, its top of the line PSU, Toughpower 1500W, has been certified by NVIDIA as SLI-Ready PSU. Toughpower 1500W has the highest output wattage among all SLI certified PSU in the market, and is the only 1500W PSU in the world that's certified for SLI.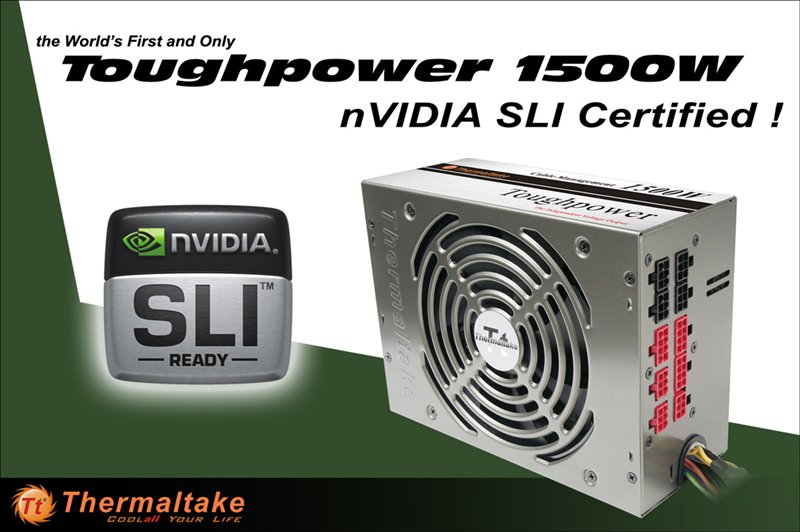 Due to continuous innovation in the graphics technology, high-performance graphics cards could consume up to 900W of power in a high end gaming system with multi graphic card configuration and left very little power for other components. To fulfill this growing power consumption and provide users with quality product, Thermaltake released the Toughpower 1500W in September and is now successfully certified as NVIDIA as SLI-Ready PSU.
The design concept for Toughpower 1500W originates at the idea that all the latest and most advanced technologies must be supported. For that, four 6pin PCI-E connectors and four 8pin PCI-E connectors are provided; this makes Toughpower 1500W the best solution for next generation Quad-graphic card set up. Moreover, Toughpower 1500W possesses four independent +12V rails, stable voltage (±3%), 140mm dual ball bearing fan, and a high efficiency of over 85%.
Thermaltake ensures that the 1500W Toughpower power supply to be of the highest quality and provide the ultimate reliability. Using state of the art high quality industrial components and, certainly the power supply also has OVP, OCP, SCP to protect your PCs. All these features will promise enthusiasts the highest performance and most reliable PC platform. The Toughpower 1500W is no doubt an indispensable part of a high end gaming system.