(Auszug aus der Pressemitteilung)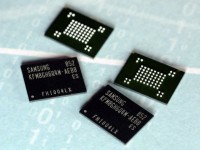 SEOUL, KOREA – March 10, 2009 – Samsung Electronics Co., Ltd., the world

leader in advanced memory technology, today announced that it has begun
using 40-nanometer (nm) process technology to produce an eight-gigabit (Gb)
Flex-OneNAND- fusion memory chip. Samsung's Flex-OneNAND is a proprietary
memory device that provides both SLC and MLC NAND in a single
cost-efficient chip. It has been designed for applications that require
high speed and high reliability in processing both code and data content.
Applications using Flex-OneNAND are expected to expand from
high-performance smart phones today, to full HDTVs, IPTVs and other
high-end applications by year end.
"With the 40-nm Flex-OneNAND we are proud to provide an exclusive
cost-efficient approach to memory selection" said Gerd Schauss, Director of
Memory Marketing, Samsung Semiconductor Europe. "This means a huge
technological advance for the memory industry. Furthermore designers have
the flexibility of adjusting designs up to the final step."
By adopting advanced 40nm class technology, Samsung achieves an increase in
productivity of up to 180 percent over the first Flex-OneNAND, a 4Gb device
designed on 60nm-class technology.
Developed in 2007, Flex-OneNAND incorporates SLC and MLC NAND on a single
piece of silicon, allowing application designers to choose the portion of
SLC and MLC NAND storage to be used in any particular design through a
simple adjustment to the accompanying software. This maximizes the
performance and efficiency of the embedded flash chip.
Samsung has included software to support a system level interface for
embedded memory, moviNAND (or eMMC) in its 8Gb Flex-OneNAND. This new
feature allows handset designers to easily introduce high-density embedded
memory in their next generation phones, eliminating the need to source
additional software. As embedded memory can increase high data transfer
speeds, more high-end phones are expected to be introduced with from 1GB to
even 32GB of embedded memory.
Flex-OneNAND's MLC area provides up to a three times greater read speed and
its SLC area offers up to a four times greater read speed than regular MLC
NAND. The Flex-OneNAND MLC area features a comparable write speed to
regular MLC NAND and its SLC area provides a write speed up to three times
higher.
Flex-OneNAND reduces the area needed for the memory on the printed circuit
board and improves performance by diminishing transmission noise.
Samsung also said it is expanding its collaboration with chipset designers
to provide OEMs with added convenience in implementing innovative memory
solutions such as Flex-OneNAND.