(Auszug aus der Pressemitteilung)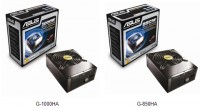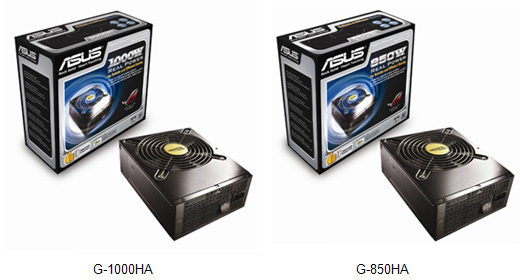 Taipei, Taiwan, April 23, 2009 – ASUS, leading producer of power supplies, has released the new ASUS G Series power supply. Encompassing both 1000W and 850W versions, the G Series allows users to easily achieve stable, high voltage performance. Equipped with cutting-edge innovations and capable of delivering reliable, constant high-voltage power, this state-of-the-art power supply is capable of conforming to the demanding needs of today's ever-changing hardware requirements for overclocking—where stable and high performance power is paramount.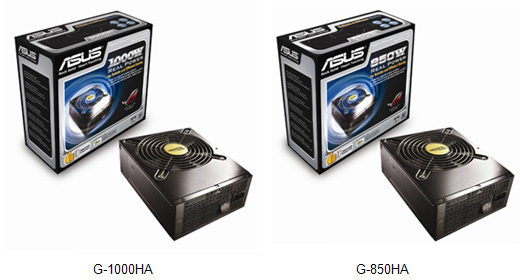 With the 80 PLUS specifications (up to 86% power efficiency) certification, the G Series is able to provide a high level of stable power output, even during overclocking. It also features an active PFC function, which helps to improve voltage stability and delivers environmentally friendly power with a high power factor (PF) of up to 99%.
Cool and Stable Operations for Optimized User Experiences
Built with quality in mind, the G Series makes use of a Japan-made capacitor that provides enhanced stability, performance and durability, while the enlarged venting holes, 13.5cm ball-bearing fan and cable sleeves ensure better ventilation and internal airflow within the system. Furthermore, the G Series is Intel ATX12V Version 2.31 compliant, and provides 5 truly dedicated 12V rails to deliver reliable voltage output to delicate components. Its accurate power rating ensures its full rated power—helping to provide stable operations under any loading. Furthermore, with an efficient thermal solution and the best component quality, the G Series have been tested to have a MTBF* of more than 500,000 hours. This outstanding achievement means that the G Series is 5 times more durable when compared with other competitors**.
Easy Expandability for DIY Fun!
The G Series is able to support both Duo Core and Quad Core CPUs, as well as high-end graphics cards. Catering to the possibility of future upgrades and multi-GPU graphics cards, it also provides 6+2-pin PCI-Express 2.0 connectors. Also, gamers can enjoy rich expandability options with 8 SATA, 6/4 peripheral, 2 FDD, 6/4 PCI-E and 1 EPS connectors. All in all, the G Series is a versatile performer that caters to a gamer's ever-changing needs, now and for the future.
* Mean time between failures (MTBF) is the arithmetic mean (average) time between failures of a system. The MTBF is typically part of a model that assumes the failed system is immediately repaired (zero elapsed time), as a part of a renewal process.
**Most competitors approximated to have MTBF of 100,000 to 120,000 hours.