(Auszug aus der Pressemitteilung)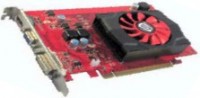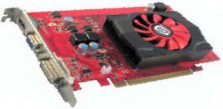 Oct 12, 2009 – Today is the day that officially marks NVIDIA's first step into 40nm processing for the discrete VGA market by introducing two new chips on the mainstream segment, the GeForce®GT220 and GeForce®210. As a market leader, Gainward is amongst the first to release brand new cards based on NVIDIA's latest technology: the Gainward GeForce®GT220 and Gainward GeForce®210.
Gainward is proud to introduce its brand new GeForce GT200 series graphics cards: the Gainward GeForce GT220 and Gainward GeForce 210. The chips Duet has been designed to conquer the mainstream market by providing the latest VGA technology as a standard into your PC. The new core has been developed with Windows 7 in mind and fully complies with it. Using the 40 nanometer processing technology for better productivity and efficiency, the new chips provides smooth graphics in your games and multimedia contents while staying cool and power efficient. DirectCompute and Open CL have been implemented in the chips as well as the now famous CUDA technology which makes it the best compatible platform for parallel computing.
Gainward GeForce® GT 220: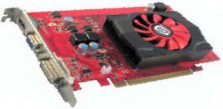 It is packed with 48 cores which is overclocked at 645 MHz and geared with 1GB of DDR3 memory clocked at 790 MHz on a 128bits bus. The card fully supports DirectX 10.1 for high quality gaming and visuals. A 512MB version is also available but this time with GDDR3 memory to enable even higher performances. The GDDR3 model has its core overclocked at an amazing 650 MHz and 900 MHz for the memory. Not enough? As an industry standard, Gainward has equipped both models with HDMI, DVI and CRT outputs to insure maximum compatibility with your hardware. They are HDCP compliant and support PCi-Express 2.0. The efficient cooling system will keep the cards quiet and cool even at full charge. The cherry on the cake? The Gainward GeForce GT220 will accelerate your PhysX games for an even better gaming experience! Discover the true gaming with PhysX games!
Gainward GeForce® 210: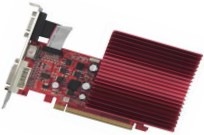 It has 16 cores clocked at 589 MHz together with 512MB of DDR2 memory at a frequency of 400 MHz on a 64bits bus. With this amount of power, you will benefit of a perfect fluidity playing any kind of videos including High Definition contents. You will not be at rest on the gaming side either; the GeForce® 210 is perfectly capable of running DirectX 10.1 games as well and will be mostly sufficient for common users and occasional gamers. No headache with Gainward, the card is totally silent, thanks to its fan less design!
"Graphics PLuS" – More than just graphics
Smooth graphics is no longer reserved for hard core gamers only! The Gainward GeForce® GT 220 and Gainward GeForce® 210 will bring you this experience at an affordable price. With the support of Cuda, OpenCL and DirectCompute, the new GeForce® GT200 will bring you full benefits of parallel computing by transcoding your videos at incredible speeds or accelerate your photo editing jobs. The cards will let you enjoy the brand new Windows 7 which relies on DirectCompute to render many applications. Welcome to the new era of Graphic PLuS…!
Smart Control Utility – EXPERTool™
Gainward EXPERTool™ is a smart and easy tool which allows users to monitor GPU's temperature and fan speed. The fan speed, as well as GPU/Shaders/memory clocks, can be adjusted for better performances. The native alerting system is the best doorkeeper when the GPU's temperature is over the limits, it will automatically inform users to clock down the card or turn off the PC to prevent from damaging it.