(Auszug aus der Pressemitteilung)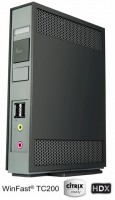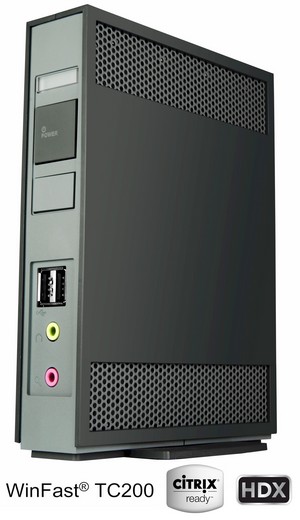 Taipei, Taiwan, September 7th, 2012 – Leadtek Research Inc., known globally for extreme Cloud Computing technology development, is pleased to announce its CITRIX® HDXTM Ready WinFast® TC200 series to simplify the VDI deployment and improve IT security.
The WinFast® TC200 series allows you to access virtual machines (VM) running on remote servers over a standard IP network and still deliver a complete, high-quality user experience. All processing is handled by the central server, ensuring high performance and data security. The Total Cost of Ownership (TCO) for the user is greatly reduced due to the minimum IT maintenance costs and support requirements.
The compact WinFast® TC200 series is the size of a book and can be used with virtual desktop systems from Citrix®, Microsoft® and VMware®. It is quick and easy to install, manage and use. As the WinFast® TC200 series is based on the high-performance TI DM8148 1.0GHz System-on-Chip from Texas Instruments; 1GB DDR3 Memory; 2GB Flash Memory and up to WUXGA 1920×1200 resolution in each screen of dual displays, word processing, multimedia and Flash video playback performance are all identical to desktop PCs which benefits the education; medical center; kiosk; call center and reception desk working environment. More product features are listed in below.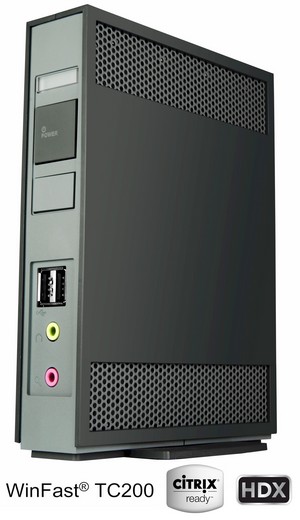 True Computing Experience
The high-end processor in the WinFast® TC200 series provides every user with a satisfying and secure user experience.
Compact Fan-less Design
The WinFast® TC200 series weighs just 600g and the slim design means it can be attached to the back of the display with the optional VESA mount. The fan-less design provides the user with a quiet, simple and neat work environment.
Dual 1920 x 1200 HD Support
Dual 1920 x 1200 high-definition DVI outputs support desktop cloning or extension.
Built-in Smart Card Reader and WiFi with Integrated Antenna
The card reader enables government agencies or business to authenticate employee logins. It can also be used for self-service kiosks, hospitals and banks. The WiFi module allows IT personnel to set up the WinFast® TC200 series in workplaces that can't be connected by conventional network cabling.
Ultra-Low Power and Silent Design
The advanced ultra-low power and silent design boosts ROI and meets the requirements for a green office environment.