(Auszug aus der Pressemitteilung)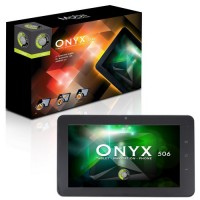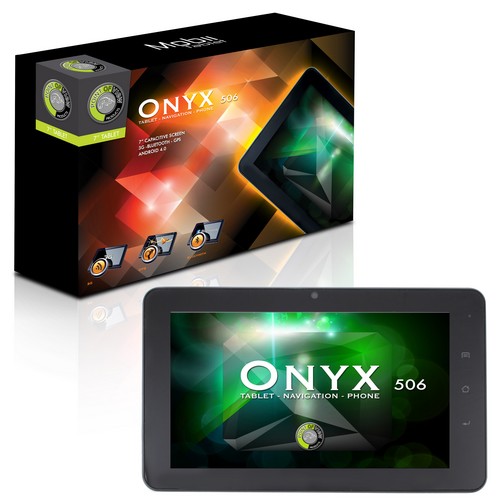 EINDHOVEN – March 13, 2013 – POINT OF VIEW, well known for its range of NVIDIA graphics cards and Android tablets is announcing today three new unique Android tablets.
THE ONYX SERIES
The key feature of these tablets is the used soc which has native support for 3G connectivity, Bluetooth, GPS as well as phone calls. This allow the tablets to be used literally everywhere. With the available POV car accessories it can even be installed onto your car's dashboard for a large-screen navigation device!
The new ONYX tablets are equipped with a high resolution 7" screen. The used resolution of 1024 x 600 can display 60% more information than a regular 800 x 480 screen. More pixels mean clearer pictures, easier to read and better looking graphics.
All models are equipped with Bluetooth (3.0 and 4.0 LE) to allow connecting smart devices to your ONYX tablet, to optimize the user friendliness to your liking.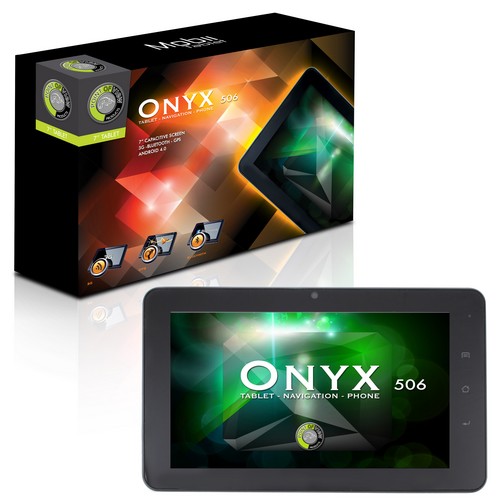 ONYX 506
The entry level ONYX tablet features a single SIM, single core CPU based on Android 4.0. The tablet is equipped with a single core Cortex A9 CPU which is powerful enough for almost every task. It contains 4GB of storage memory and 512 MB of system memory. Just as all ONYX tablets also the ONYX 506 has support for phone calls, 3G and GPS. Both calling and 3G data are done through a single SIM card.
The GPS module is compatible with Google Maps as well as third party Navigation software.
Furthermore the device has double webcams for Skype video chat or taking quick snapshots.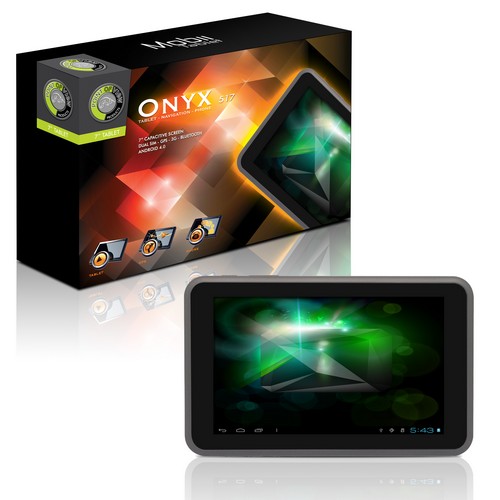 ONYX 517 and 527
For the more demanding user there are the dual SIM and dual core ONYX 517 and 527 tablets. The soc is a Dual Core Cortex A9. The difference between the two models is the storage and system memory. The ONYX 517 works with 4 GB storage and 512 MB system memory whereas the ONYX 527 has 8 GB storage and 1024 MB RAM. Of course you can expand the storage by inserting a micro SD card up to 32 GB. This all offer enough fuel to power the Android 4.0 operating system.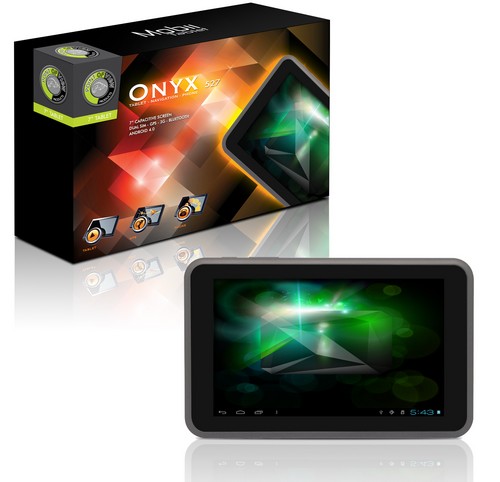 Due to the dual SIM functionality it is possible to use separate SIM for data as well as voice. This way you can use the best subscription for your needs or use a separate (prepaid) SIM card in case you are travelling abroad.
Besides the phone calls and mobile internet access you can also use the device as navigator.
You can use Google Maps or Google Navigation to find the most effective route to your destination. Of course it's possible to install third-party navigation software.
All POV tablets come pre-installed with Google Play to download all your favorite apps and games.
The ONYX tablets really add something new to the table. Excellent features for an all-round device. The Point of View ONYX 506, ONYX 517 and ONYX 527 will be available with Point of View retailers within the next few weeks.
Product specifications