(Auszug aus der Pressemitteilung)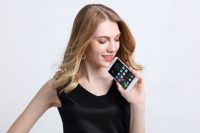 Some features of Gretel A9 to personalize it to make it your own.
Smart Light: double click to light up screen
Smart wake: draw Gestures on the screen to open the authorized APP, control music, unlock screen, make a phone call and open message
Turbo download: download using WiFi and 4G LTE at the same time. Faster and more convenient.
Supershot: A touch to the Supershot or slide down 3 fingers on the screen, quick to get one screenshot. Also you can choose the Scrool style to get the full screens while browsing the web or having chats, or choose the Funny style to get Lasso and Graffiti screenshots.
OTG: easy to transfer files between your phone and USB disk
Fingerprint function: Use fingerprint to authorize purchases and APP access, like Capture, Alarm, Fingerprint dial, Home Scroll, video control and music control.
Sound enhancement settings: there are three options to choose from, BesAudEnh, BesLoudness and BesSurround
ThemeClub: one key to change the theme what you like. Show your style!
Home Screen Setting APP to set Launcher, Lock Screen, Gesture , Weather, etc…
System Manager: APP lock, APK manager
Back camera capture mode: Normal, Panorama, HDR, Night, Beauty, Pose, Child, Watermark, FilmMode; Front camera capture mode: Normal, Beauty, Child. Face recognition and autofocus.
Quick to take photos: Use Volume buttons to take photo; Touch to capture; if detect human faces and gesture it, get the shutter.
Gretel A9 already presale on Gearbest with $82.99 + free protective transparent back cover. Click to check more details right now. Big news is that A9 will be in stock on 25 March.
Good news is that Giveaway A9 is online yesterday on Gretel Official Facebook page. Open worldwide, all can participate it. Good lucks!