(Auszug aus der Pressemitteilung)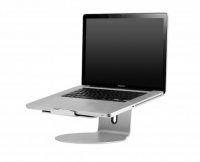 27-02-2019 Maarheeze, The Netherlands. The Spire VERTIGO products are new Laptop stands made completely out of aluminum which enables easy heat dissipation. The ergonomic design elevates your laptop and makes it possible to sit up more straight and have a better viewing angle on the laptop screen. Equipped with neat cable routing grommets for an organized desk. The unit is completely formed out of lightweight aluminum, supporting great dissipation of laptop heat. The ergonomic design and anti-slip features of the Vertigo laptop stands provide a comfortable computing experience. Whether you're watching movies, in a video conference or writing your daily emails, this product facilitates better screen viewing and helps to prevent and reduce neck strain. There are two models available, the Vertigo pro is compatible up to 17 inch large laptop computers which makes the Vertigo and Vertigo Pro both a great universal choice for laptop cooling and ergonomic computing.
Main Features:
Minimalistic and Industrial design
Strong and solid aluminum
Ergonomic computing comfort
Light weight and portable
Passive cooling for laptop
Anti-slip feet and top pads for secure and stable grip
Applicable from 10 to 17 inch laptops
Two years manufacturer warranty
Codename:
Vertigo. Part number: SPUGAP-1V
Vertigo Pro. Part number: SPUGAP-2S
Manufacturer suggested retail price
SPUGAP-1V € 39,95 / $ 49.95
SPUGAP-2S € 39,95 / $ 49.95
Availability:
The Vertigo series are now available from both Spire Corp in Shenzhen, China and from Spire European office in Maarheeze, The Netherlands.