(Auszug aus der Pressemitteilung)
Glasgow, UK, 10 June 2003 – Crucial Technology Europe, one of Europe's

largest direct memory upgrade providers, today introduced the Crucial(R)
Radeon(TM) 9800 Pro graphics card, powered by ATi® technology and
featuring 128MB 2.86 nanosecond double data rate (DDR) synchronous DRAM
(SDRAM). The next evolution in the high-end graphics card line, the
Radeon 9800 Pro graphics card replaces the Crucial Radeon 9700 Pro graphics
card with measurably improved cinematic-quality graphics for gaming and
sophisticated CAD and graphic design.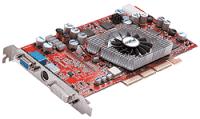 "Tests in Crucial's performance lab show the Crucial Radeon 9800 Pro card
delivers a 22 percent performance gain over the 9700 Pro card when running
3Dmark®03, a leading third-party graphics benchmarking software," said
Crucial Technical Support Manager Mike Sanor. "That is an incredible jump
in performance and results in some of the fastest, most life-like graphics
achievable on computers today."
The Crucial Radeon 9800 Pro graphics card features 400MHz core clock speed,
128MB 2.86 nanosecond DDR SDRAM, 256-bit memory interface, dual-display
capability, DVI-I output, six-foot S-video and RCA cables, a DVI to CRT
converter, an S-video to RCA converter, DirectX® 9 support, and AGP 8X
support. The graphics card is available on Crucial's Web sites at
www.crucial.com/uk and www.crucial.com/eu.
The card is currently priced at GPB243.99 and 339.99 euro. All Crucial
graphics cards come with a multilingual user guide, limited lifetime
warranty, free shipping within the U.K., discounted shipping to many
European countries, and Crucial's renowned customer service and technical
support.