(Auszug aus der Pressemitteilung)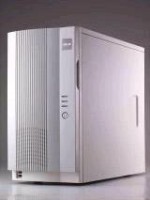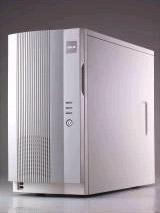 Taipei, Taiwan; July 22, 2003 – ASUSTeK Computer Inc. (ASUS), a leading provider of high-performance computer systems, today introduced the AW171, the world's first workstation to support the latest AMD Opteron processor. The all-new ASUS workstation, based on the NVIDIA nForce 3 pro 150 chipset, incorporated cutting-edge technology and unique designs to offer a high-performance and cost-effective solution.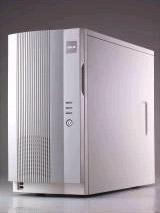 With the AMD Opteron processor, the AW171 provides 32-bit and 64-bit computing capability for the most demanding applications. Combined with four 184-pin DIMM sockets supporting a maximum of 8GB memory capacity, it is the perfect device for excellent performance. For peripheral connection and networking, the AW171 supports six USB 2.0 ports, up to two IEEE 1394 ports, one onboard audio port and high-speed Gigabit LAN technology.
The AW171 comes equipped with the Promise R20378 RAID controller onboard to offer support for two IDE and two Serial ATA hard disk drives, which enable RAID 0, 1, 0+1, functions for better performance and data protection.
The AW171 allows superior performance without the extra baggage of overheating through an excellent system layout that increases airflow. In addition, the unique Smart Fan technology, found only on ASUS systems, monitors system temperatures and automatically adjusts fan speeds to maintain acoustics at the most suitable level.
Key Specifications:
AW171
Processor
Socket 940 for AMD Opteron processor
Chipsets
NVIDIA nForce 3 pro150
Memory
4 x 184-pin DIMM Sockets support max. 8GB PC2700 / PC2100/ PC1600 ECC DDR SDRAM Registered memory
Expansion
1 x AGP 8x slot, 5 x 32-bit/33MHz PCI slots
Hard drive bay
5 x Internal HDD Bays
Built-in devices
1 x Gbit LAN, 6 x USB ports
Hard disk drives
5 x 3.5″ ATA 133 IDE/SCSI Internal hard drive bay
Others
320W power supply and 218x445x610 19″, 5U rack