(Auszug aus der Pressemitteilung)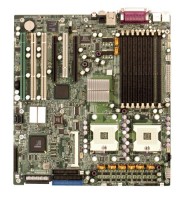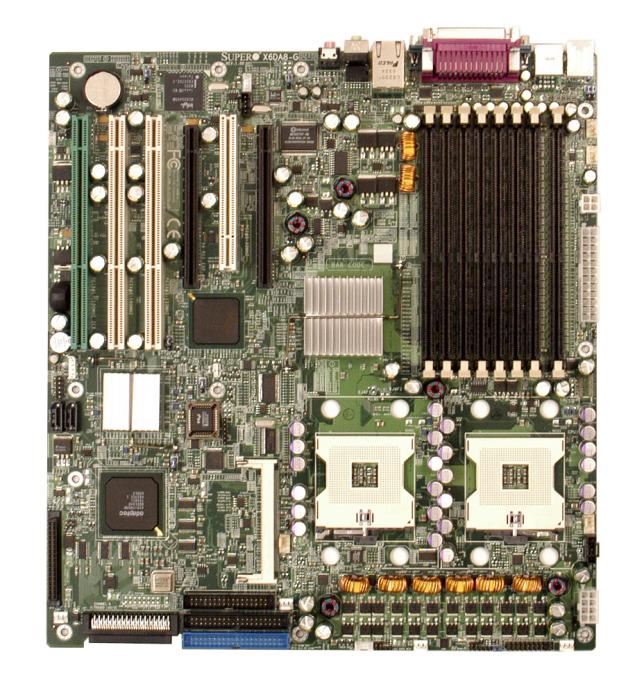 San Jose, CA, June 28, 2004 – Supermicro Computer, Inc. has begun high-volume production of its new workstation/server platforms which support the latest Xeon® processors (codenamed Nocona) with Intel® Extended Memory 64 Technology (EM64T). With EM64T, these solutions will provide users with the versatility to run both 32-bit and 64-bit applications so that they can move to 64-bit computing at their own pace while preserving their current 32-bit investments. Based on the Intel® E7525 chipset, these new Xeon workstation/server platforms feature an 800MHz front-side bus, PCI-Express x16 support, and Pulse Width Modulated (PWM) fans with speed control for very quiet operation and increased efficiency.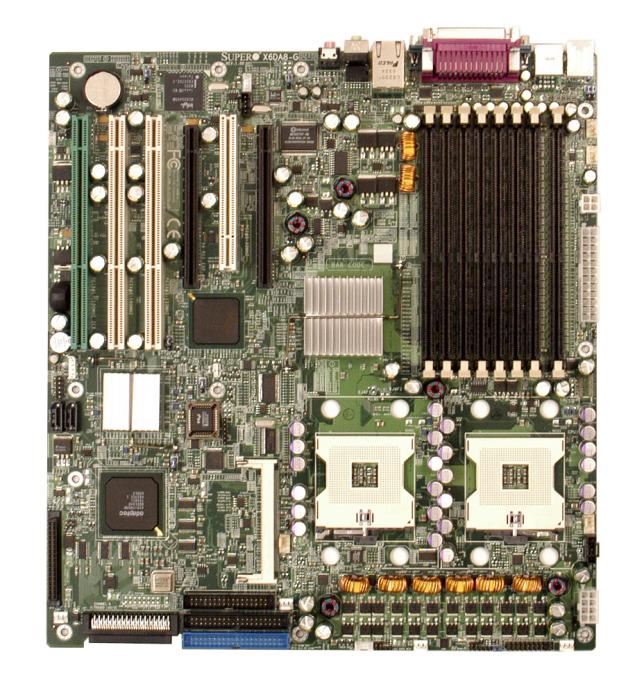 Optimized for high-end workstations, these solutions also make ideal video servers by leveraging the PCI-Express x16 graphics performance. With bidirectional 8GB/second data streaming throughput, PCI-Express x16 graphics doubles the SUPER? X6DA8 bandwidth of the previous 8x AGP high-end graphics solutions and provides superior 3D rendering and image-processing performance.
"Our high-end SUPER? X6DA8 Series can support two PCI-Express x16 graphics cards (via two x16 slots, one with x16 and one with x4 electrical signal)," says Charles Liang, President and CEO of Supermicro. "Offering both DDR2 and DDR1 configurations with 8 DIMM slots, along with Ultra 320 SCSI, dual Gigabit Ethernet LAN ports and IPMI 2.0 support, our X6DA8 Series are definitely the most feature-rich Tumwater solutions available in the market today and for the foreseeable future."
To complement the high-end X6DA8 Series, Supermicro offers a cost-effective X6DAL Series for cost-sensitive customers seeking a compact ATX formfactor. This Series includes the SUPER? X6DAL-TG which supports a total of six SATA drives including four SATAII drives and the SUPER? X6DAL-G. Both of the boards have the flexibility to perform in most ATX chassis. It is expected the two products to quickly become high-volume leaders in the server board market.
To house these new motherboards, Supermicro offers the most advanced line of chassis with the best price/performance ratio, making its products the most optimized solutions available. For workstations, the versatile new SC743S/i-645 4U rack/tower and the super quiet SC733i-645 mid-tower chassis feature a new "extreme low-noise" 645-watt power supply and 4-wire PWM fans to produce a much quieter work environment. Some of the SC743 Series also provide Supermicro's new 100% air-cooling redundancy, so that if any one key fan fails, the CPU and the entire system will remain at 100% performance. Ideal for video server or graphics-intensive applications, these configurations comprise the SC743-R760 with a triple-redundant 760-watt power supply for the ultimate in server power and availability. Alternatively, they can cope with the cost-effective SC743-650, which still packs plenty of power even for the most computation demanding server applications.
For higher density rackmount servers, the SC833 Series features an optimized Nocona 3U server design which, like the SC743 Series, includes an air shroud and fan speed control for 100% air-cooling redundancy. The SC833 also comes in numerous configurations to suit the requirements of most server applications.
These exceptional new product offerings should accelerate the growth of Supermicro partners' market share and profit. In addition to the standard Tumwater chipset advantages like 64-bit capability, 800MHz FSB and PCI-Express x16 support for graphics, these new Supermicro products provide a number of value-added features and options mentioned above like support for two PCI-Express x16 cards, IPMI 2.0, SATAII, PWM fan speed control, an extreme low-noise power supply, and 100% cooling redundancy. Impressively early to market once again, Supermicro continues to deliver the latest technology with the best high-quality solutions ahead of its competitors.