(Auszug aus der Pressemitteilung)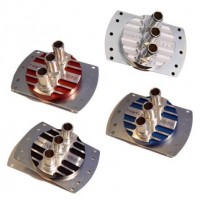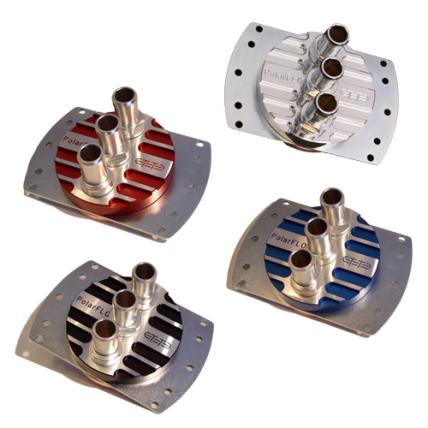 The PolarFLO TT CPU is the latest in pc water cooling technology. We bring you the best performance at much lower flow rates and at high flow rates. The new design is fully comprehensive and future proof. We decided to take a more feature-rich and performance approach with the TT Series. The features this series offers is unprecedented. The PolarFLO TT Series CPU block is a simple two part design. If you can change the batteries in a flashlight, you can service a PolarFLO TT CPU. The main body of the block rotates to relieve stress and deflection on hoses. All the components are available individually. You can take apart the new PolarFLO TT CPU to clean, modify or interchange parts. The PolarFLO TT CPU uses the PolarFLO TT Series Posi-Seal Barbs and Plugs. These Posi-Seal barbs and plugs are easy to interchange. You can get the PolarFLO TT CPU in a 2 port or 3 port configuration. The low profile design will fit into the smallest cases and with the low flow performance, you don't have to worry about your pump-life. The new PolarFLO TT Series CPU water block is the first in the series, which will be the most professional, high-quality, and top performance series available.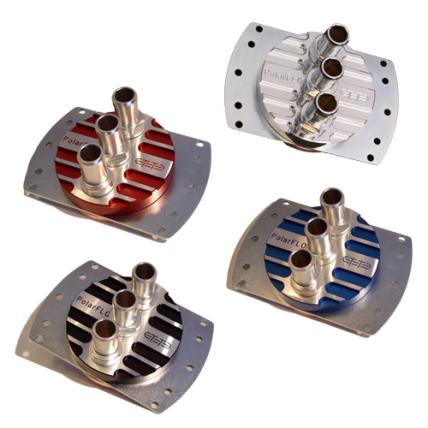 Design and Features:
2 part design for easy assembly and disassembly
Designed for processors with Heat Spreaders (Semi-Super Finished to lower cost)
High performance heat transfer geometry (diamond machined flat to 0.0003″ – 0.0005″ with a 0.000009″ surface finish)
Low flow resistance
Easy cleaning and resealing
Low profile (great for ever-shrinking PC systems)
Universal mounting plate fits AMD socket 754, 939, 940 and Intel socket 478, 603 and 604. (Not for use on AMD socket 462)
Universal mounting plate has intrinsic spring force for uniform mounting
Future proof (when a new enhanced performance copper base is released you may purchase only the base)
100% Interchangeable parts (available separately)
Unique mounting system allows 360 degrees of rotation to relieve hose stress (kinking)
2 port or 3 port configuration
Threaded copper base for uniform assembly force (assembly does not distort base flatness)
Uses Posi-Seal barbs and plugs (ensures positive sealing every time)
3 two tone colors (red, blue and black)
Chrome plating available
Made in the USA!
Included:
Mounting hardware

(4) 6-32 x 1″ Screws
(4) Nylon Thumbnuts
(4) Nylon washers

Y-splitter (only included with 3 port configuration)
(2) Hose clamps ( 5 hose clamps included with 3 port configuration)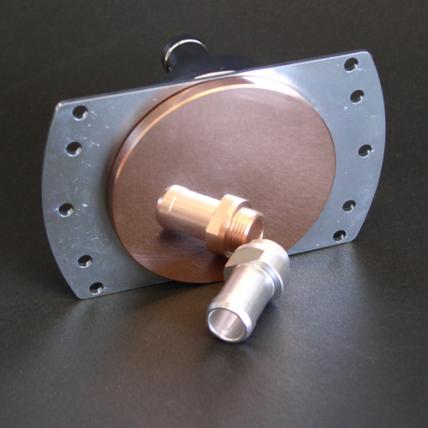 Semi-Super Finished base requires no additional lapping or polishing!!