(Auszug aus der Pressemitteilung)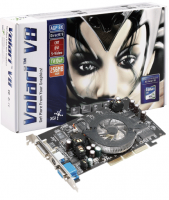 Taipei—October 11, 2004 – XGI Technology Inc, an innovative graphics chipsets supplier, today announced to showcase Volari™ graphics solution at SBSE 2004 (System Builder Summit Europe) from October 11th to 13th in Dublin, Ireland. XGI has designed and developed multiple graphics processors to satisfy the full range of high-end, main stream, and entry level markets. XGI's first board product series, a full line of graphic boards powered by the award winning Volari™ graphics processors, was made known to the public last month.
"XGI continues to make a significant investment in the system builder market by introducing advanced graphics performance and innovative features that are cost effective," said Jilly Sun, Senior Europe Sales Manager of XGI. "With the introduction of the Volari™ GPUs and graphics board series, we provide a top-to-bottom graphics solution and empower system builders to target their own niche markets."
| | |
| --- | --- |
| | |
Volari™ V8, Volari™ V5, Volari™ V3XT, and Volari™ V3 offer the full breadth of performance from XGI. These products include high performance Volari™ graphics processors which target the enthusiast, high-end, mainstream and entry-level markets, respectively. Volari™ V8 and Volari™ V5 cover the high end users who require the 3D cinematic effect empowered by Microsoft Shader Model 2.0. These two products also have 4 and 8 sets of high performance pixel rendering pipelines for the maximum anti-aliasing images. The results of these technologies are better realism coloring, smoother curves, and more lively animations. Volari™ V3XT and Volari™ V3 are cost effective solutions for entry level clients.
In the mobile graphics space, XGI offers discrete and multi-chip-module (MCM) graphics processors that are all software compliant with the Microsoft® DirectX® 9.0 specification. XGI delivers Volari XP5m32 for the thin and light market, Volari XP5m64 for the performance market and Volari XP5 for the high-end market segments.