(Auszug aus der Pressemitteilung)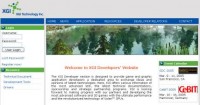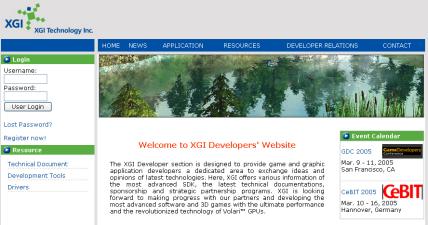 Taipei—October 20, 2004 – XGI Technology Inc, the largest Graphic Chip Design Company in Asia, today announced the Official Game Developer's Website (developer.xgitech.com) to supplement the developers' technical needs to collaborate with XGI's technology. XGI is committed to partner with game developers and to synchronize new developing games with the XGI technology. This official game developer's website is a cooperation milestone between the game developers and XGI. The new site provides the best developing support including technical documents, developer's tools, useful applications, marketing collaterals, latest Beta Drivers, and vendor supports.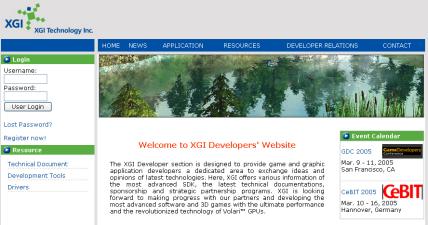 "The ultimate goal of this Game Developer's Website is to create the most efficient communication channel between the game developers and XGI's team. This communication includes XGI providing game developers with sample boards to help them develop their games, and game developers providing XGI with their developing applications or hottest games to fine tune the Volari™ technology for better compatibility with the games." said Jer-Yuan Yan, Business Development Manager of XGI. "There are three categories we try to achieve with the new game developer's website: compatibility between new games and XGI technology, best optimization of games with join development effort, and joint-marketing promotions."
"I found very useful technical information on the new developer's website and the information helps us create better 3D effects on our current developing game." Said Kevin Lan, Easyfun Entertainment Client Program Director.
The game developer's website of XGI provides Quest 3D, ShaderWorks XT, Mad F/X 1.0 3D development software, technical documentation for graphic cards, sample source codes for the best 3D effects, and EzShader development tool. XGI provides these vehicles for game developers to achieve the highest level of cooperation in technology and branding. In terms of Beta Driver updates, XGI works hard to updates the newest latest driver every two to four weeks. The important focus of the XGI team is to provide the best quality gaming for users and the fast-track optimization for the latest games. An effective relationship between game developers and XGI is the main focus a cornerstone in the business development plan. The Official Game Developer's site is the instrument to achieve the premium alliance program.