(Auszug aus der Pressemitteilung)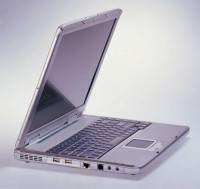 Taipei—Jan 5, 2005 – XGI Technology Inc., the biggest graphics chipset designer in Asia Pacific, today announced that it has accomplished a new achievement in mobile graphics market. Volari XP5 graphics chipset designed for notebooks has been widely recognized by Elite group and will make its official presence in the market by its integration into the newest model Elite 532 notebook. Volari XP5 has been initially adopted by DELL, the leading player in PC industry. Now with the new support of Elite Computer brand, XGI Technology Inc. will definitely gain more market share in the mobile graphics chipsets market!
"The combination of XGI's product and our technology is a powerful marketing tool for Elite! Volari XP5 graphics chipset with 32 MB independent DRAM memory not only outperforms those with shared memory by great margins, but also grants Elite 532 an overwhelming victory over competitive products in 3D Mark 2003. It is the "new graphics star" in the market!" said SunFeng Chang, Senior Product Marketing Manager of Elite Computer.
"Today the popularity of notebook keeps growing. And users begin to pay greater attention to its display effects. We have the advanced graphics technology widely known in the industry, which can facilitate manufacturers' design in both hardware architecture and software. Our competitive products are excellent in performance and we feel greatly honored to cooperate with Elite. XP5 will bring users the best using experience and visual delights." said Po-Han Lin, Senior Product Marketing Manager of XGI.
olari XP5 software supports Microsoft DirectX 9, integrates TMDS drivers in TFT/DVI display and supports multi-screen display including TFT, DVI, CRT, TV, AGP-4X, AGP-8X. It uses advanced graphics arithmetic to design super efficient logic circuit which enables the best usage of system resources with less transistors. It is power-saving and has good thermal features, which beats the competitive products by better performance. By adopting XGI's CoolPower technology, it evidently prolongs the battery life evidently. Volari XP5 can display higher-quality, clearer and more stable image output through such image processing technologies as TrueVideo Accelerator, ColorAmp Engine and Cipher Video Processor, etc.