(Auszug aus der Pressemitteilung)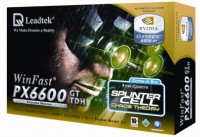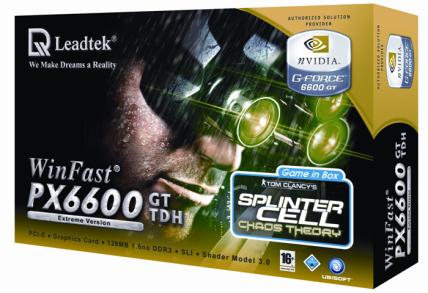 Hannover, Germany – March 16, 2005 – Leadtek Research Inc., a leading manufacturer of Graphics cards, Main boards, Multi-Media Products, GPS receivers, Videophones and Communications products, today announce the award winning WinFast PX 6600GT TDH 128MB and WinFast A6600 GT TDH 128MB graphics cards as Limited Special Edition.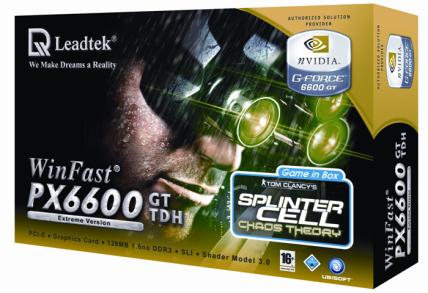 This special edition is strictly limited to the market and this fantastic offer includes the Full Version of Tom Clancy's Splinter Cell Chaos Theory at the moment of the official market introduction of the Game in whole Europe for an extremely attractive price point. Get the best base to enjoy this graphic effect firework and play with full graphic power on higher performance, based on the latest NVIDIA GeForce 6600 GT on PCI EXPRESS or AGP based.
The WinFast PX6600GT Extreme comes with 128MB DDR 3 memory and is rated with a GPU core clock of 550Mhz and a memory clock of 560MHz on PCI Express 16x. The WinFast A6600GT comes with 128MB DDR 3 memory and is rated with a GPU core clock of 500Mhz and a memory clock of 450MHz on AGP 8x. Featuring groundbreaking technology innovations such as support for Microsoft® DirectX® 9.0c Shader Model 3.0, and also features NVIDIA UltraShadow™ II technology to deliver 4X the shadow processing power of previous generation products and accelerate the performance of shadow intensive games. In addition, both Versions are also supports HDTV-output to allow you to connect your PC to a high definition TV for direct-to-TV playback.
To further enhance your supercharging gaming experience, Leadtek developed an advanced silent cooling system for the WinFast 6600 GT Series, which means a exquisite Ultra cooling efficiency.
The product will be available early – at the moment of the official game release in limited quantity.