(Auszug aus der Pressemitteilung)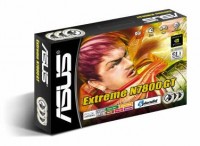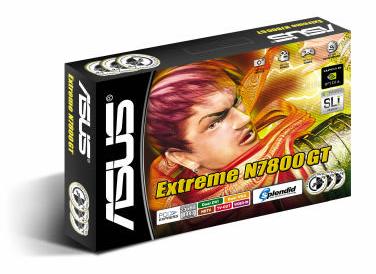 ASUS Extreme N7800GT equips with newest nVIDIA® GeForce 7800GT GPU, which owns both ultimate excellent cinematic resolution and fierce graphics computing power. While other manufacturers simply rest on the laurels of the reference design, ASUS incorporates innovative features to boost performance, functionality and value.

ASUS Extreme N7800GT is positioned on the enthusiast segment and has the most complete solution for 3D gaming and video application.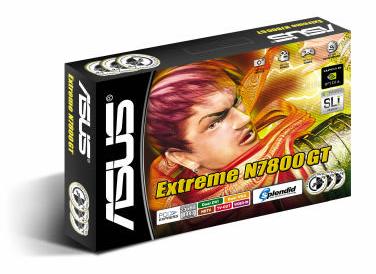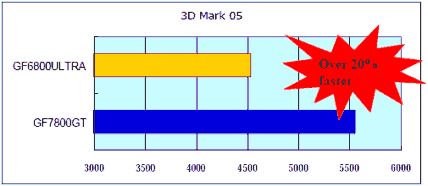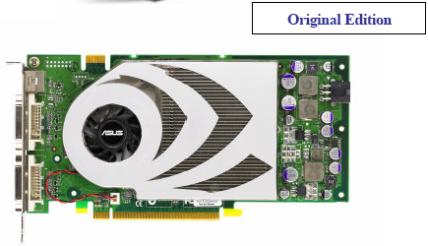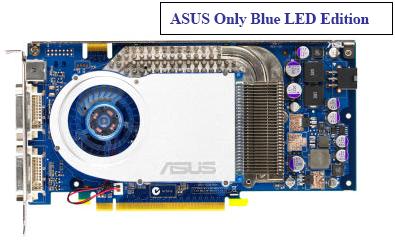 ASUS Key Features
ASUS Splendid Video Enhancing Technology (NEW!):
Splendid is a breathtaking innovation that brings the video
viewing experience on PC to the next level. Built into the driver of
ASUS graphics cards, Splendid Video Enhancing Technology
detects activation and usage of video applications and
automatically optimizes image quality for the best visual result.
ASUS GameFaceLive : World's first multiplayer audio and
video chatting solution for PC game that gives you more face to
face fun.
Free online upgrade to new ASUS GameFace
Messenger (COMING SOON!): real time audio/video
communication feature elevates the interactive gaming
experience by enabling point-to-point video conferencing
functions and online gaming to take place simultaneously. Now
integrated with a Instant Messenger Client to enhance
communication inside and outside of the game battles.
ASUS GameLiveShow (NEW!): Just like people who share
their lives and thoughts on blogs, expert gamers often want to
show off their perfectly executed strategies and five-hit
combinations to other gamers. GameLiveShow is another
innovative feature incorporated in ASUS graphics cards that is
created to allow gamers to stream broadcast their gaming
experience live over the Internet. Other players can now go online
to check out how you expertly beat the whole game.
ASUS GameReplay (NEW!): Practice makes perfect, and that
holds true in gaming as well. For popular LAN (local area
network) party team games such as Counter Strike and Unreal
Tournaments, strategy is the key to victory. GameReplay records
your gaming experiences into MPEG4 video files so that your
team can review all the moves and tactics later on to get better
for the next tournament. The recorded files can also be used as
screen savers or posted on blogs.
ASUS VideoSecurityOnline : Powerful utility for users to
flexibly build their own security systems to monitor a specified
location and detect any environmental change. Now it supports
remote monitor function through Internet.
ASUS OSD (OnScreenDisplay)
The Hottest 3D Games Bundled: Project Snowblind, Xpand
Rally, Joint Operations
Diversified displays connectivity (Dual DVI, Dual VGA,
DVI+VGA, DVI+TV-out, VIVO)
High-Definition TV output for gaming or presentations on
mega screen.
Graphics Chip Key Features
NVIDIA CineFX 4.0 engine – Full support for Microsoft
DirectX 9.0 Shader Model 3.0 enables stunning and complex
special effects.
High-Speed GDDR3 memory interface
NVIDIA UltraShadow II technology – Enhances the
performance of bleeding-edge games that feature complex
scenes with multiple light sources and objects.
NVIDIA Intellisample 4.0 technology – The industry's
fastest antialiasing delivers ultrarealistic visuals, with no jagged
edges, at lightningfast speeds. Visual quality is taken to new
heights through a new rotated grid sampling pattern, advanced
128 Tap sample coverage, 16x anisotropic filtering, and support
for transparent supersampling and multisampling.
Digital Vibrance Control 3.0 Technology – Allows the user to
adjust color controls digitally to compensate for the lighting
conditions of their workspace, in order to achieve accurate,
bright colors in all conditions.
Models Available
ASUS EN7800GT/2DHTV/256M
GF 7800GT, PCI-E, Dual VGA, Dual DVI, VIVO, HDTV-out , 256MB DDR3
Hardware Specification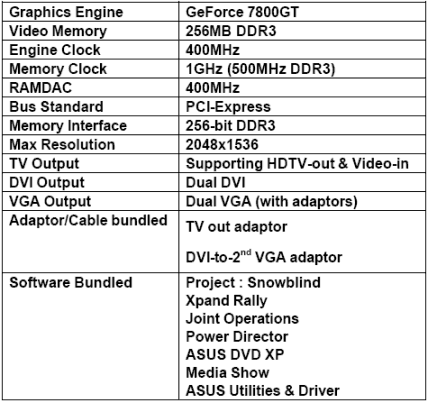 Specifications are subject to change without notice
PCB color and bundled software versions are subject to change without notice.
Brand and product names mentioned are trademarks of their respective companies