(Auszug aus der Pressemitteilung)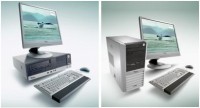 Taipei, Sep. 6th, 2005 – SiS announced today that Fujitsu Siemens Computers will use new SiS chips for two of its professional PCs, the ESPRIMO E5600 and ESPRIMO P5600. The ESPRIMO E5600's will be outfitted with the SiS761GX, an integrated Northbridge chipset which supports the AMD Athlon™ 64 platform and PCI Express x16 high speed graphics interface, and SiS965L, a Southbridge chipset which features PCI Express x1 interface.. With this partnership, SiS hopes to mark a new entrance into the business PC market.
The new ESPRIMO professional PC Series marks Fujitsu Siemens Computers desire to extend its range of professional PC in a compelling market for business desktop PCs. The prominent features of the ESPRIMO Series include the high reliability, security and efficiency of its software and hardware. With its environmentally conscious product design, the ESPRIMO E5600 and ESPRIMO P5600 are ready to meet the European Union's strict lead-free processing requirements and RoHS Directive. They are using the SiS761GX and SiS 965L chips and AMD Athlon™ 64 or Sempron™ platform processors conform to high quality and advanced innovation technology demands of corporate clients using desktop PCs.
The SiS761GX fully supports a wide range of AMD platforms, including the Athlon™ 64 X2, Athlon™ 64, Athlon™ 64 FX, AMD Sempron™, and Opteron™. Backed by the AMD64 platform's Cool'n'Quiet™ Technology, the SiS761GX can regulate CPU speeds and frequencies while achieving power-saving efficiency. The SiS761GX also supports the AMD HyperTransport™ Technology, which is capable of transmission speeds of up to 8GB/sec (2000MT/s) while connected to the AMD64 CPUs.
By embedding with Mirage™ 1 Graphic Engine, SiS761FX is able to deliver outstanding graphics performance. The Mirage™ 1 Graphic Engine provides everyday users with sufficient graphics functions, while avid gamers can upgrade their system's graphics performance by simply plugging a compatible video card into the PCI Express interface.
The SiS965L, which has two PCI Express x1 ports, is combined with a Serial ATA high speed transmission interface to speed up data processing. The SiS965L is equipped with 8 USB 2.0 connection ports, thus providing ideal peripheral connections while greatly raising efficiency. The SiS761GX, the SiS965L and the AMD64 platform thus compliment each other perfectly for greater efficiency and overall performance.
The SiS761GX and SiS965L received the approval of Fujitsu Siemens Computers after passing strict quality control tests. Regarding SiS' cooperation with this major corporate PC manufacturer, Daniel Chen, the CEO and President of SiS, said, "This attests to the strong, deep-rooted quality and stability of SiS chipsets, and we have opened the door to an expansive field for corporate desktop PCs. In the future SiS will continue to put its efforts into improving chip quality while providing full support for software and hardware platforms in order to expand the presence of our products."

Fujitsu Siemens Computers ESPRIMO E series and P series with SiS761GX chipset
SiS761GX
SiS965L