(Auszug aus der Pressemitteilung)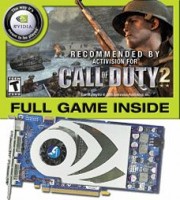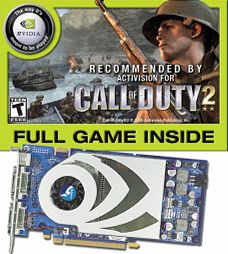 December 1, 2005 – Albatron recently announced that its GeForce 7800GT VGA card will team up with "Call of Duty 2", the sequel to one of the most popular online war-games software ever. This VGA card is backing up its claim as top gaming equipment by featuring this gaming bundle that has been dubbed one of the most demanding, First Person Shooter graphics gaming software ever.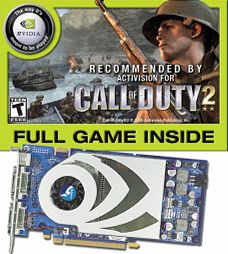 The GeForce 7800GT VGA card is all "PCI-Express" and features one of NVIDIA®'s top-end GPUs, the GeForceTM 7800 GT which boasts a very quick 400 MHz core. This card has also been endowed with very generous memory configurations featuring 256 MB of speedy 1000 MHz, DDR3 memory using a 256-bit bus.
The NVIDIA GeForce 7800 GT GPU is also equipped with the most recent suite of graphics technology including the latest IntellisampleTM 4.0, Ultrashadow IITM, CineFXTM 4.0. That should more than take care of even the most graphically demanding and popular games on the market. This GPU also features NVIDIA's PureVideoTM, a full featured video encoder/decoder producing the finest quality video playback for a variety of formats including HDTV.
"Call of Duty 2" is the sequel version to the original "Call of Duty" gaming software that has been awarded numerous "Game of the Year" awards. You can't be a gamer if you've never heard of "Call of Duty" This WWII epic features some of the most exhilarating, full-on action battle engagements ever depicted in a PC game. Feel the adrenaline, witness the intensity of WWII just as it was in real life with full battle-chatter, squadron support, full range of locales, and individualized tactical strategies all based on groundbreaking gaming architecture developed by Infinity Ward.
The Albatron GeForce 7800GT will provide TV-out, DVI and VIVO connectors. The bundle package will include an HDTV cable which also supports S-Video and AV connectors. It will also include the FULL "Call of Duty 2" software package (retail approx. $40 USD) allowing you to jump right into the fray of WWII.
Boasting powerful memory configurations along with one of NVIDIA's top-end GPUs, the Albatron GeForce 7800GT is a must if you want to experience the full graphics versatility of latest gaming software. And if war-games are your thing, you're already geared-up with "Call of Duty 2". The 7800GT with the "Call of Duty 2" bundle is scheduled for release in December 2005.