(Auszug aus der Pressemitteilung)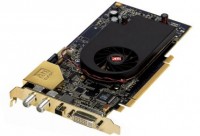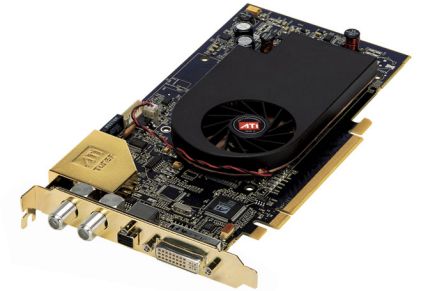 Munich, Germany – 9. January 2006 – ATI Technologies Inc. (TSX: ATY, NASDAQ: ATYT) today announced All-In-Wonder® 2006 PCI Express® Edition. This new multi-function video card offers consumers an easy choice when it comes to playing great games, listening to FM radio and watching/recording/pausing live analogue and digital TV. Adobe® Premiere® Elements 2.0 is bundled with the product to help edit professional style videos. All-In-Wonder 2006 PCI Express Edition offers budget-minded consumers an affordable multimedia card with Avivo™ for outstanding video playback, amazing color resolution and connectivity to big screen displays.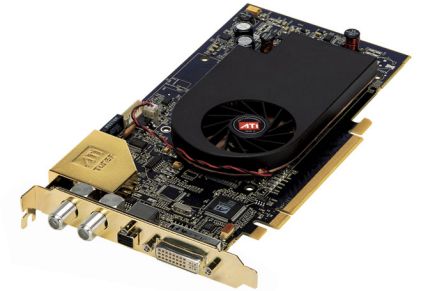 Joining the previously announced All-In-Wonder® X800 series and X1800 XL, this new multimedia video card rounds out ATI's offerings for mainstream consumers. Powered by Radeon® X1300, All-In-Wonder 2006 for PCI Express is designed to give consumers a wealth of multimedia features at an affordable price.
"ATI's All-In-Wonder 2006 PCI Express Edition gives budget-minded consumers a multimedia video card that delivers amazing features for TV viewing, video editing and playing great games," said Peter Edinger, Managing Director and Vice President EMEA, ATI Technologies (Europe) GmbH. "The new All-In-Wonder comes bundled with the award-winning Adobe Premiere Elements 2.0 allowing consumers to create professional quality videos. Consumers can easily turn their ordinary PC into a Media PC and gain features such as Avivo to deliver more vibrant images. And to top it off, ATI's great graphics performance enables amazing game play. All-In-Wonder 2006 for PCI Express is the most accessible solution on the market for the ultimate Media PC experience."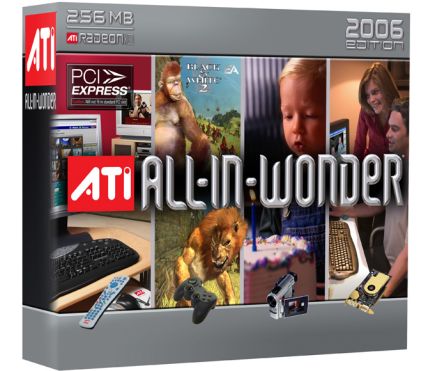 All-In-Wonder 2006 for PCI Express features:
Next generation Radeon® X1300 graphics – Based on an advanced 90 nm process, this ultra-threaded 3D architecture is optimized for Microsoft DirectX® 9 and Shader Model 3.0 to deliver exceptional performance to play all the great new PC games with cinematic quality. Plus the graphics technology offers 450 MHz engine, 256 MB 400 MHz memory (GDDR3)
Adobe Premiere Elements 2.0 brings unparalleled control, ease of use and more options for creative digital video editing with a self-adjusting workspace
Avivo – Outstanding video playback, 64 times as many colors than previous graphics technology for amazing display functionality and very user-friendly high definition TV display connectivity
Multimedia Center 9.12 – ATI's award-winning multimedia software now works even better with existing ATI TV tuner products. Dual-tuner MulTView™ support now allows timeshifting on two TV tuners simultaneously when paired with an ATI TV tuner card, including the Theater™ 550 Pro
Uniquely designed "domino-style" input dongle – Innovative modular input and VGA plus DVI-I monitor plus Scart RGB TV output connectivity for flexibility and easily accessible combinations
Windows XP Media Center Edition support – In addition to usage with Windows XP Home and Professional, All-In-Wonder 2006 PCI Express Edition supports Microsoft Windows® XP Media Center Edition 2005 for an amazing home theater experience
Dedicated customer support – Toll free customer support line is complemented by feature rich online support available from ATI.com
European All-In-Wonder 2006 for PCI Express customers will receive:
ATI TV tuner that receives 125 channels of cable or analog PAL / SECAM broadcasts plus DVB-T digital TV and FM tuning capabilities
Program Guide support with TVTV for Analog TV and DVB-T programs
SCART RGB connector for easy connecting televisions
Multimedia Center 9.12 with a unified TV interface for both DVB-T digital and analog broadcasts
Optional feature available from ATI.com include:
Remote Wonder Plus™ – A special offer is included in the package for ATI's third-generation radio-frequency remote control device now includes improved support for Windows XP Media Center Edition, and allows for complete computer control through a wireless interface.
HDTV Ready – Easily connect to the big screen that HDTV displays provide via an output adapter available from ATI.com
Now available, All-In-Wonder 2006 has a manufacturers suggested retail price of Euro 179 ex VAT.