(Auszug aus der Pressemitteilung)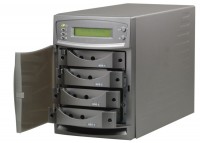 Taipei, Taiwan, January 2006 – The leading NAS manufacturer QNAP Systems, Inc. has launched brand new Turbo Server (TS) series network attached storage (NAS) in November 2005. TS series supports new generation SATA hard disk and Gigabit broadband network transfer to provide speedy, reliable and convenient data storage solution. The first released model of TS series is a 4-bay desktop server-TS-401T-especially designed for small and medium businesses (SMB). Providing easy usage, high speed, great reliability and 2TB storage capacity, TS-401T is a superior network storage solution for SMB.
Most SMB such as accounting firms, art design houses, trading companies and dental clinics often store their valuable data and customer information on hard drives of employees' NB or a PC file server without any regular backup or redundancy. Any kind of data loss will cause a big disaster to the business. Besides, the OS of PC file server is enormous in size and highly complicated while the stability is low without guaranteed efficiency as the applications are interactively affected. SMB will require a cost-effective storage device with large capacity and high reliability for data centralization and protection.
Dedicated to SMB, TS-401T performs a simple and easy to use storage solution for file sharing and management. TS-401T provides up to 2TB large capacity for SMB users to save/access their data through the Internet. By using the friendly web interface via IE browser, installation and operation are so easy even for non-IT professionals! Users can update system firmware, backup data or configure other management functions anytime anywhere by connecting to the network. The LCD display panel of TS-401T is also a particularly convenient tool for users to view and configure IP address directly without using a computer.
Furthermore, TS-401T is designed by reliable software and hardware to ensure data security of SMB. TS-401T is embedded with variety powerful features, including 4 hot-swappable SATA HDD supporting RAID 1 and RAID 5 with data rebuilding protection for data integrity, dual Gigabit ports for fail over / load balancing / standalone network setting, instant/scheduled remote replication, USB CD/DVD burning backup, optional redundant power, Trend Micro anti-virus agent option and other value-added functions. TS-401T satisfies the demand of SMB users as a cost-effective backup and disaster recovery solution.
Compared to general PC file server, TS-401T provides more reliable, efficient and professional storage functions. TS-401T is relatively easier to install and operate and more cost-effective storage solution than the costly high-end storage server. TS-401T is undeniably the superior storage solution for small and medium business.
Easy-to-use / Convenient-to-manage Data Sharing Center
Intellectual web management interface
Most SMB enterprises may not have their own MIS professionals. TS-401T provides an easy and simple multi-language web administration interface. With 7 simple installation steps, the server can be configured in 5 minutes. The web interface also supports firmware update or data backup functions that can be fully operated by IE browser.
Convenient LCD panel
Outstanding from other tower NAS models in the market, TS-401T is equipped with LCD panel and two control buttons which allow users to view server's IP address and important system information and users can configure IP directly without the need to access PC.
Highly compatible with different platform
With elegant design, TS-401T supports cross-platform OS and multiple network file transfer protocols. Windows, Macintosh and Linux users can share files via web file manager, FTP and network neighborhood. SMB users can save different OS files on TS-401T for centralized management and data protection. Moreover, TS-401T supports Windows 2003 AD (Active Directory) to provide quick and direct integration with existing AD server of the business, and avoids excessive operation of creating user accounts, passwords, reduces maintenance time and labor cost by automatic configuration procedure. Therefore, the management of user accounts will be much more convenient.
Practical user management functions
Administrator can assign user's access right for accessing the server and establish a secure platform for exchanging confidential data within the company and sending large files to customers or suppliers to increase work efficiency. Data on the server can be accessed and managed remotely anytime, anywhere by IE browser.
Reliable Software and Hardware Design for Data Secure Protection
High reliability and performance
TS-401T is embedded with Linux OS specially designed for storage server to enhance system stability. Equipped with 4 hot swappable high-speed SATA disks, the server supports up to 2TB storage capacity, which solves the problem that ordinary PC file server may encounter with complicated and inflexible architecture. TS-401T simplifies management and increases system expansibility, while RAID 0, 1, 5 & JBOD disk configuration are supported. The performance of TS-401T in RAID 5 configuration surpasses other models.
Automatic data restoration design
When one disk is damaged, user can replace the disk with a new one without turning off the server. Ongoing operation will not be interrupted and data will be automatically rebuilt to the new disk. Disk damage alert can be set to inform administrator by e-mail or by suspending file access service to ensure disk security. With TS-401T, SMB users can be benefited from advanced and reliable storage technology.
Embedded anti-virus mechanism to enable secure data sharing
TS-401T has a built-in anti-virus mechanism. Users can purchase activation code to enable anti-virus service for the server without extra installation. Virus pattern can be updated online anytime. All files on the server can be automatically scanned to guarantee secure data protection when sharing files.
Steady network and system design to enhance fault tolerance
With 2 Gigabit network ports, TS-401T supports load balance, failover and standalone settings to increase network transfer efficiency and consistency. TS-401T is equipped with hot swappable (redundant) power supply. Differed from other desktop NAS models in the market, users can purchase an optional extra redundant power supply to strengthen the reliability of the system. TS-401T provides 2 USB 2.0 ports that support SNMP and USB UPS to ensure steady system operation. USB printer can be connected to enable network printer sharing to save setup cost for network printer.
Diversified Backup Mechanism for Data Disaster Recovery
Powerful client-side data backup software
Data protection is the prime mission of QNAP NAS products. With solid development technology, users can save and back up data with maximum protection. PC users can use powerful and handy backup software, NetBak Replicator, which is as competent as other enterprise-level backup software, to back up data on local side to the server easily. NetBak Replicator allows immediate or scheduled data backup for automatic backup of essential data to TS-401T. Hence, company data can acquire a much complete protection.
Professional remote replication technology
After the tragic of 911, importance of remote replication is highly focused. In the pass, advanced storage solutions are affordable mainly by large-scale enterprises. Now, QNAP TS-401T satisfies the demand of SMB users by built-in remote replication technology. Data on TS-401T can be replicated to remote server immediately or by schedule. With block level transfer and incremental replication settings, TS-401T can largely increase the efficiency of data transfer and backup.
Handy CD/DVD backup/restore function
In addition to general network backup means, TS-401T also provides USB 2.0 ports for data backup to and from external CD/DVD which makes data replication more convenient and efficient.
Main Features of TS-401T:
Dedicated to SMB enterprise, provides the most efficient storage solution embedded with practical and advanced storage management functions
Simple installation, 5-min configuration and user-friendly web management interface. All system configuration can be done via IE browser
New generation high speed SATA HDD, supports hot swap, maximum capacity up to 2TB
Dual Gigabit ports for load balance, fail over and standalone settings
Dual USB 2.0 ports for network printer sharing & UPS
Handy LCD panel for instant display of IP address and important system info; IP settings can be configured directly without access to PC
Built-in anti-virus mechanism. Simply enter activation code to enable anti-virus function without extra installation. Supports instant online virus scan to protect data. (Optional)
Supports redundant power supply to increase system reliability (Optional)
Provides various practical backup mechanisms

Remote Replication: Built-in professional block level replication function for users to back up data in TS-401T instantly or by scheduled backup to a remote NAS
CD/DVD Backup: USB 2.0 interface for external CD/DVD data burning/restoring
NetBak Replicator: Powerful backup software for Windows users, instant/scheduled backup of PC data to TS-401T can be performed without IT professionals