(Auszug aus der Pressemitteilung)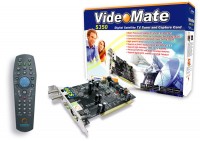 Taipei, Taiwan, 21 April, 2006 – Compro Technology, an innovative leading developer and manufacturer of PC multimedia products launched VideoMate S350, a powerful digital satellite TV tuner card with analog video/audio capture. It accompanies Philips 9-bit ADC chip, the state-of-the-art silicon digital TV tuner, Compro Picture Purifying Technology, and Power Up Technology to provide superior HDTV video quality reception on your PC. Not only watching free-to-air high quality DVB-S TV shows on your PC as a regular DVB-S card, accompanied by Compro's exclusive Power Up Technology – it can automatically boot up your system from the Windows Shut Down (ACPI S5), Stand by (ACPI S3), or Hibernation (ACPI S4) mode and record your favorite shows, then ComproDTV 2 will automatically shutdown your system when recording is completed. Friendly Remote controlled power on/off – to enhance the home entertainment PC experience, users can power up and shutdown their PC with the bundled ergonomic design remote control.
More than these, VideoMate S350 supports DiSEqC V1.2, Transport Stream and MPEG-2 digital TV record/playback to get the best experience in DVB-S TV reception, moreover, S350 support 3rd party satellite TV PVR software as well. In addition, VideoMate S350 provides many useful and unique features in software: timeshifting, channel surfing, still frame capture, digital EPG, subtitle and Teletext, advanced picture in/out picture to watch live TV/playback video files at the same time and support up to 4 digital channel windows watch, customize channel order and my favorite channel list for more easy-to-use, Video Desktop to setup your live TV screen as wallpaper mode, customize brightness, hue, saturation, contrast, and TV audio in each TV channel. VideoMate S350 is also a video capture card that can capture analog video from S-Video or Composite for MPEG-1/2/4 formats recording.
Complete with a 37-key remote and bundled with Compro's exclusive ComproDTV 2, ComproDVD 2 and Ulead PhotoExplorer 8.5 SE software, VideoMate S350 gives users a complete and convenient control solution for easy DVB-S viewing and recording. By completely integrated the excellent hardware and software supports, and rich package, Compro unleashes the convenience of video technology to enjoy your life, and brings you the continuous innovation in high video quality experience. VideoMate S350 turns your desktop into a digital entertainment center and brings a world of enhanced TV services directly to your PC and definitely your best choice.
Key Features and Benefits
PCI digital satellite TV tuner card
Silicon digital satellite TV tuner with Philips 9-bit ADC
Watch DVB-S digital satellite TV shows on your PC
Compro Exclusive Power Up Scheduled Recording
Convenient Remote Controlled Power On/Off
Support DiSEqC Version 1.2
Support SDTV and 1080i HDTV (where available)
Advanced PIP/POP features up to 4 windows watch
Video Desktop to setup the live TV screen as wallpaper
Customize Brightness, Hue, Saturation, Contrast, and TV audio in each TV channel
Customize channel order and my favorite channel list
Digital TV supports MPEG-2 and Transport Stream recording
Capture analog video from S-Video or Composite
Analog video capture supports MPEG-1/2/4 formats recording
Analog video capture supports pause while recording and automatic spilt file size
Timeshifting, channel surfing, and still frame capture
Supports audio and language selection in available channels
Fully functional IR remote control for TV and DVD playback
Support 3rd party satellite TV PVR software
Microsoft BDA driver