(Auszug aus der Pressemitteilung)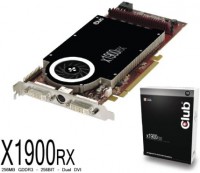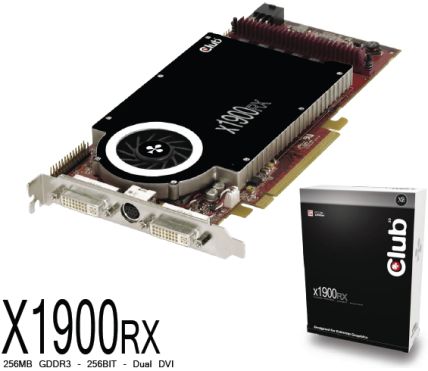 The Club 3D 1900RX is designed for extreme gaming. Built for gaming in the highest resolutions and image quality settings all the way to the max. Your game speed will remain rock solid when using Club 3D 1900RX with your latest PC games.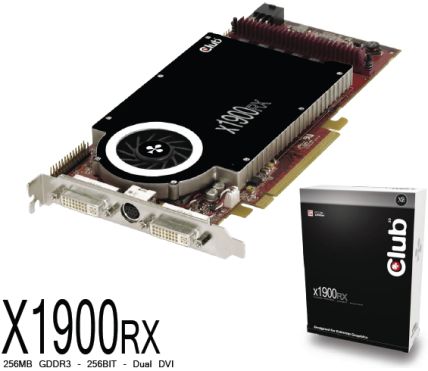 Gaming Performance
Build for latest game generations that use new technologies such as HDR. This improves the natural look and feel of a game by adding far more color complexity and extreme wide contrast ratio. On top of this excellent features and new techniques are added to improve the overall image quality in your games.
2x Dual Link DVI
High Quality display outputs to drive two LCD panels with resolutions up to 2560×1600 full digital with new Dual Link DVI technology. Two high speed 400MHz RAMDAC's to create ultra sharp images on CRT monitors up to 2048×1536 at 85Hz. An intelligent driver to create any resolution below. Full dual monitor support for analogue and digital displays.
High Definition Output (1080p)
True 1920 x 1080 Progessive Scan (1080p) display output to generate the best image quality possible on plasma or LCD Televisions.
Best Movie Quality
H.264 Hardware acceleration to create smooth High Quality Video Playback on latest and next generation Media players on the internet, such as Apple QuickTime 7 and next generation Optical Media Players for Desktop PC such as Blu-ray and HD-DVD, which will replace current CD and DVD-ROM players.
GDDR3 Memory
Blazing fast GDDR3 memory is implemented to meet the requirements of latest and next generations of games. This will allow you to run your games in high detail and see the extreme high detail of objects, environments and characters.
PCI-Express x16 lane
For optimal performance with the CPU, the fastest bus communication PCI-Express x16 technology is used. This will allow communication with 4GB/sec in each direction between VGA card and CPU.
Video In & Video Out
High Quality video capture for VCR, Video 8 and Hi8 by using S-video or composite. Transfer your home video's and video tapes to high quality DVD format. Powerful Capture, Edit and DVD compilation software included.
CrossFire Ready
CrossFire gives an entirely new gaming experience by having the possiblity to use multiple GPU's within a single PC.
Intelligent Cooling Cooling
For optimal reliability, lifespan and ergonomics, Club 3D implements an intelligent Cooling system, that measures temperature to calculate the right fan speed. This will lower the fanspeed when not running 3D applications.
Specifications:
256MB GDDR3 memory
256BIT memory interface
400MHz RAMDAC
36 Pixelshader Processors
x16 lane PCI Express™
ATI™ AVIVO™ Technology
Full support for DirectX® 9.0
3Dc™ Technology
VertexShaders 3.0
PixelShaders 3.0
Up to 16x Anisotropic Filtering
Up to 6x Multi Sampling Anti Aliasing
Up to 12x Temporal MS Anti Aliasing
Connections:
DVI-I out (Dual Link 2560×1600 digital)
DVI-I out (Dual Link 2560×1600 digital)
CRT out (2x max Res. 2048×1536 @85Hz)
S-video and Composite video Out (1024×768)
HDTV; YPrPb Out (1080x720p, 1920x1080p)