(Auszug aus der Pressemitteilung)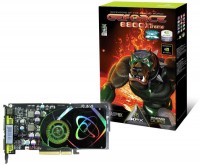 Let's go back a bit to a well established era in graphics warfare. When XFX looked closely at the well respected and already awarded NVIDIA product range GeForce™ 6800 series, we noticed that the consumer was missing a graphics product with that kind of performance that the AGP Mid-range discipline has not know until now. So, the war machines got running using the best components, building an awesome weapon in AGP world.
Today you can witness the birth of the already historical newcomer, XFX GeForce™ 6800XTreme 256MB DDR3 AGP. It is targeting to fill a gap in the AGP world where performance and friendly pricing become one. On top of that, the armour of the card has been forged in the unique Black Edition, making it the 'Wolf' in Sheep's clothing amongst the Mid-range AGP graphics arena. By entering the battle field inside, it really shows its teeth. It tears any opponent into pieces by its strength and lures anybody who is amazed by its looks. The unique Black Edition gives graphics real charisma and makes the PC look great from the inside too. Perfect for transparent casing and case modders! Connecting two flat screens is no issue for the "Wolf" with its Dual DVI capability.
You'd better have him on your side. Performance, looks and connecting it to TWO Flat screens make sure you win the battle in style.
Again, XFX does not do empty promises; the product is available now in stores near you. Expect only a reasonable price for the 'Wolf' and check with the local preferred partners. The 'Wolf' is available for a mere price of only 189 €. For the most updated pricing, please check the local stores around you.
HARD FACTS: