(Auszug aus der Pressemitteilung)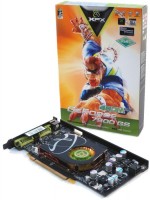 Ontario, Calif., September 6, 2006 – Gamers thrive on high velocity technology, speed and power, all of which are at the core of XFX's blazin' hot GeForce® 7900 GS graphics card. Taking visual acuity to an entirely new level, this card helps gamers keep an edge over their competition.
This HDTV-ready card provides world-class TV-out functionality up to 1080i resolution. Also SLI-ready, this card enables gamers to run two graphics cards at the same time, for twice the performance capabilities. The must-have for performance PCI-Express graphics, SLI dramatically scales performance on more than 60 of the top PC games.
For gamers who like to live large, the GeForce® 7900 GS features Dual DVI, enabling it to drive the industry's largest and highest resolution flat-panel displays. There is also a DVI to Analog Adapter that converts VGA outputs to a DVI connector. The card features 20 pixel processors, seven vertex processors and 256-bit memory bus.
The GeForce® 7900 GS graphics card offers game rendering so real it might result in a revolution. However, XFX will not be held responsible for loss of friendships caused by bragging or game time.