(Auszug aus der Pressemitteilung)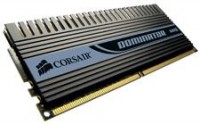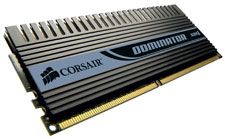 Fremont, CA (October 30, 2006) – Corsair®, a worldwide leader in high performance enthusiast computer products, today unleashed TWIN2X2048-6400C4D DOMINATOR memory targeting value-conscious performance users. Featuring patent-pending Dual-path Heat Xchange (DHX™) technology, the new Corsair DOMINATOR memory offers the ideal blend of innovative features and reliable performance at standard 800MHz speed.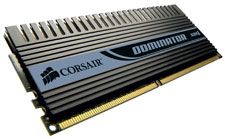 Corsair's patent pending DOMINATOR printed circuit board and 4-layer heat sink design offers superior heat dissipation than standard heat spreaders thanks to the DHX technology. It substantially increases the memory module's thermal dissipation so that the heat generated by the RAM cells can be more efficiently removed from the module via two paths. RAMs that run at lower temperatures enjoy improved performance and extended reliability. Available in 2GB kits, the new TWIN2X2048-6400C4D is fully optimized to deliver rock solid stability.
Rated to perform at 800MHz and low latency of CAS4, the new TWIN2X2048-6400C4D DOMINATOR offers unmatched compatibility for the latest AMD® Athlon™64 AM2 and Intel® Core™2 Duo based motherboards. Each DOMINATOR pair is tested in the most current motherboards and processor platforms to ensure performance at its rated speed. As with other new Corsair XMS modules, the new 6400C4D DOMINATOR features Enhanced Performance Profiles (EPP) and is SLI™ Ready. EPP is a new open memory standard for the Serial Presence Detect (SPD) jointly developed by NVIDIA® and Corsair. Memory modules featuring EPP offer the advantage of simplified overclocking for novice enthusiasts and provide unparalleled control for experts.
"The DOMINATOR heat sink design and the DHX technology bring substantial enhancement to our new DDR2-800 offering. We launched this product to support the performance needs of budget enthusiasts looking to integrate the latest innovative technology at price points that don't break the bank!" said Richard Hashim, Director of Product Marketing at Corsair.
TWIN2X2048-6400C4D DOMINATOR Features:
Tested as matched pairs at guaranteed speed of 800MHz
Latency Timings: 4-4-4-12
Optional Corsair Airflow fan assembly for optimal cooling
Available in 2GB kits
The TWIN2X2048-6400C4D DOMINATOR 2GB kits are currently available through Corsair's worldwide authorized distributors, retailers, resellers and e-tailers.