(Auszug aus der Pressemitteilung)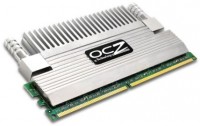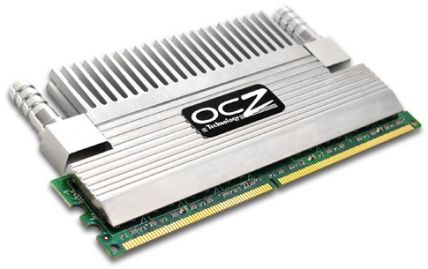 Sunnyvale, CA—November 20, 2006 – OCZ Technology Group, a worldwide leader in innovative, ultra-high performance and high reliability memory, today unveiled the OCZ PC2-9200 FlexXLC 2x1GB Kit, a revolutionary new memory solution that offers unprecedented speed, signal integrity, and thermal management. These new modules feature the new OCZ FlexXLC heatsink that delivers superior heat dissipation via a hybrid copper and aluminum design alterable between passive air or water cooling. As the World's fastest DDR2, the PC2-9200, in combination with the innovative FlexXLC technology, is considerably the most ground-breaking and unique memory product existing today.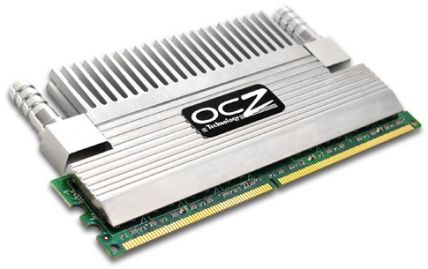 Thanks to OCZ's FlexXLC (Xtreme Liquid Convention) heat management solution, the OCZ PC2-9200 operates at extreme speeds of 1150MHz without the high temperatures that inhibit or damage the module's ICs. The FlexXLC module was engineered with a unique "flexible" design which gives enthusiasts the option to run the modules passively or water cooled via the integrated liquid injection system. The concurrent use of both technologies (water-cooling) promotes maximum heat dissipation.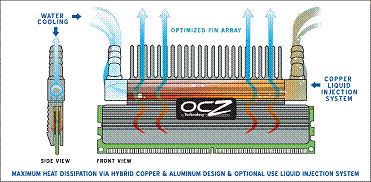 "Water-cooling is more efficient than air cooling, yet standard memory kits are usually not available in off-the-shelf water-cooled configurations," commented Dr. Michael Schuette, VP of Technology Development at OCZ Technology Group. "The new OCZ FlexXLC series—featuring an exciting, novel hybrid water and air cooler based on OCZ's embedded copper liquid injection system—pushes thermal management of memory modules one step further to keep up with the ever-increasing frequency demands. Moreover, the FlexXLC modules seamlessly co-migrate with any system upgrade to liquid cooling."
The PC2-9200 FlexXLC modules are optimized for the latest cutting edge platforms and will be available in 2GB (2x1024MB) dual channel kits. As part of OCZ's line-up of premium memory, the PC2-9200 series is backed by a Lifetime Warranty and industry-leading technical support.