(Auszug aus der Pressemitteilung)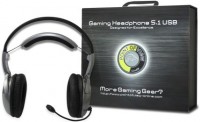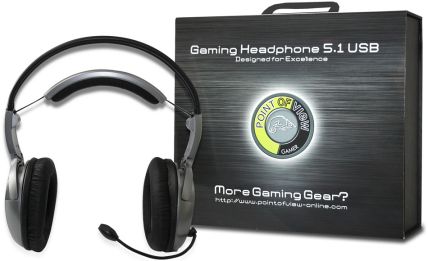 Eindhoven – 29th November 2006 – POINT OF VIEW, well known for its range of nVidia based Graphics cards, continues to expand the Gaming product line. Point of View introduces the Gaming Headphone 5.1 USB.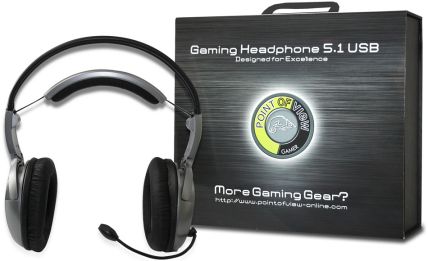 Everything becomes digital. Why? Cause analogue signals:
are very sensitive to the environment (electric/magnetic fields)
may experience information/quality loss
have no intelligence such as error-correction
depend on the quality of the plug
You can now say goodbye to your beloved analogue headphone, because the next step in the evolution of sound has arrived…
The Point of View Gaming Headphone 5.1 USB is shaped, developed and tested especially for high demanding users such as Gamers. This Booming Baby has a total of 8 speakers creating a true 5.1 surround sound! Also it supports all of the surround sound types used in movies and games.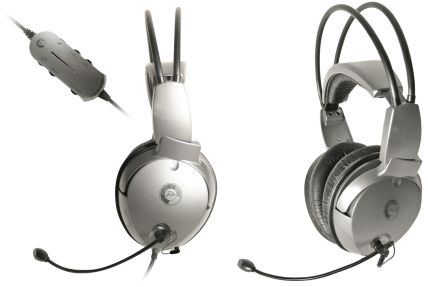 The sound is just truly amazing. Whether you're shooting around and you need to hear what's behind you or you're chilling down with the latest album of Mozart ;), the diversity of sound will definitely give you shivers.
The internal self-powered amplifier and the True Bass technology (vibrating woofer) create a massive sound. Use the Control box to set the volume per channel and tune your sound just the way you like it!
The intelligent control box filters static electricity that would normally cause sound glitches! Never will you hear cracks or squeaks anymore with this digital headphone.
This 5.1 Headphone is specially developed for EXTREME usage;
Soft ear pads offer maximum comfort during long gaming sessions
The one-size-fits-all mechanism puts no pressure on the head
Detach the microphone when you're not using it!
The Point of View Gaming Headphone 5.1 was introduced on GamePlay 2006, the largest gaming event in the Netherlands with its 25.000 visitors. Gamers were astounded by the quality of the sound, even in a noisy environment such as a gaming event… or LAN-party!