(Auszug aus der Pressemitteilung)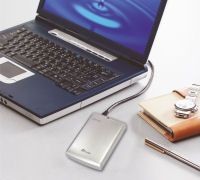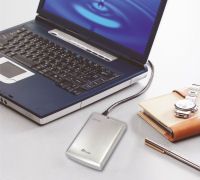 Brussels, December 2006
– Extending its range of personal storage and high reliability optical products, Plextor today announces their new range of portable hard disk drives – small enough to fit in your pocket. In a stylish, brushed aluminium case these high reliability, premium quality HDDs offer excellent value for money.
The two models, PX-PH08U2 (80GB) and PX-PH12U2 (120GB), are also Mac and PC compatible.
PX-PH08U2 (80GB) & PX-PH12U2 (120GB)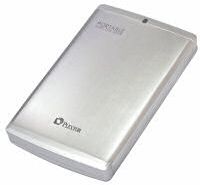 Ideal for all types of media including video, music, photos and office files, both drives offer a practical data capacity for everyday use and their compact size (only 17mm thick and 200g in weight) means you can easily slip them into your pocket, briefcase or handbag. Included is a handy carrying pouch for extra protection.
Rudy De Meirsman, Sales & Marketing Manager at Plextor, says: "Plextor's new HDDs are ideal for all types of users requiring access to multimedia data on the move, or between PCs and as a useful backup system."
We are seeing significant demand for portable units across the market sectors – from home users to SOHO and SMEs. They offer ease of use for novices, high reliability for enthusiasts and are robust enough for business users and even students all housed in a modern brushed aluminium chassis."
PlexTools Professional HDD
In addition to fast USB2.0 transfer speeds and convenient bus-powered operation, Plextor has manufactured the units to maximise data security. They come pre-loaded with Plextor's specially developed version of PlexTools software for hard disks – PlexTools Professional HDD. An important feature of this utility is password protection, to keep all personal and business data safe and secure from prying eyes.
Availability and Warranty
The PX-PH08U2 and PX-PH12U2 will be available in January 2006 from the network of Plextor dealers.
They are covered by Plextor's Fast Warranty Service (2-year warranty in the EU, Norway and Switzerland (Collect & Return); 1 year in other countries) . This market-leading service guarantees to have a fully operational drive back to the customer within five working days – free of charge.
Specifications and System Requirements
Model Name
PX-PH08U2 (80GB), PX-PH12U2 (120GB)
OS
Windows 2000/XP and MacOS 8.6/9.x/10.x or higher
Dimensions
81 W x 130 D x 17 H mm
Weight
200g approx
Interface
USB2.0, 1.1
Transfer rate
USB 2.0 Max 480Mbps, USB 1.1 Max 12Mbps
RPM
5400
Buffer size
8 MB
Extras
Bus powered
Average Seek time: 12ms
RoHS compliant