(Auszug aus der Pressemitteilung)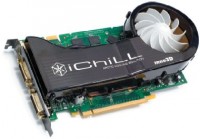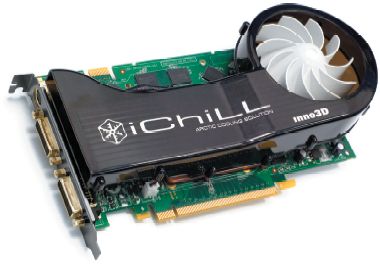 Hong Kong 1st February 2007 -Inno3D® "i-Chill" range launches their fi rst new baby in 2007, the

overclocked range with NV Silencer 6 cooling fan. Inno3D® "i-Chill" have joined forces with Arctic
Cooling, the Swiss leaders in creating thermal cooling solution for PC that specialize in GPU
(Graphic Processing Unit) cooling whilst reducing the noise level.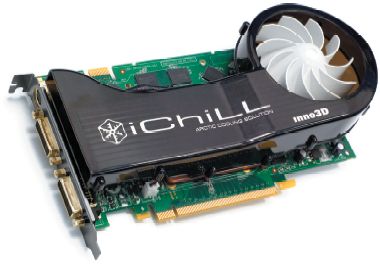 The NV Silencer 6 has won numerous awards from many top international reviewers and has
gain an affi rmative reputation as being the best thermal cooling solution in the industry. The NV
Silencer 6 produces a very strong airfl ow and prevents your PC from overheating whilst hot air is
removed.
Main features of NV Silencer 6 include:
High Service Life (L10 at 30°C:274000h)

The ARCTIC Ceramic Bearing (alloy bearing and Ceramic shaft) provides fans with an out
standing service life

Unique Cooling Performance

Highest fi n surface area and a 2.5mm thick copper base achieves best cooling
performance at its noise level

Ripple Noise Solution

A filter is integrated into the PCB to reduce the noise generated from the motor

Extremely Quiet

A large fan and optimized fan blades offer a minimum noise level at a high air fl ow

DHES (Direct Heat Exhaust System)

Draws cool air from inside the case and exhausts warm air outwards. This prevents the
fan from recycling warm air to cool the GPU, which increase performance.
Lowers the air temperature inside the case, because the heat of the GPU will be carried
out directly
By using an Inno3D® graphics card sample we carry out the comparison test with a reference
cooler and the NV Silencer 6 with 3DMark06 testing. As seen in the graph below the temperature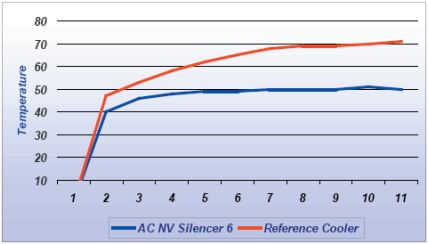 So why settle for reference cooling when now you have an enhanced cooling option that meets
your gaming needs. Build ready for Windows Vista – gaming is never the same once you have
tried the "i-Chill" series.