(Auszug aus der Pressemitteilung)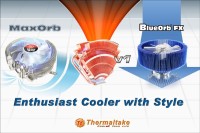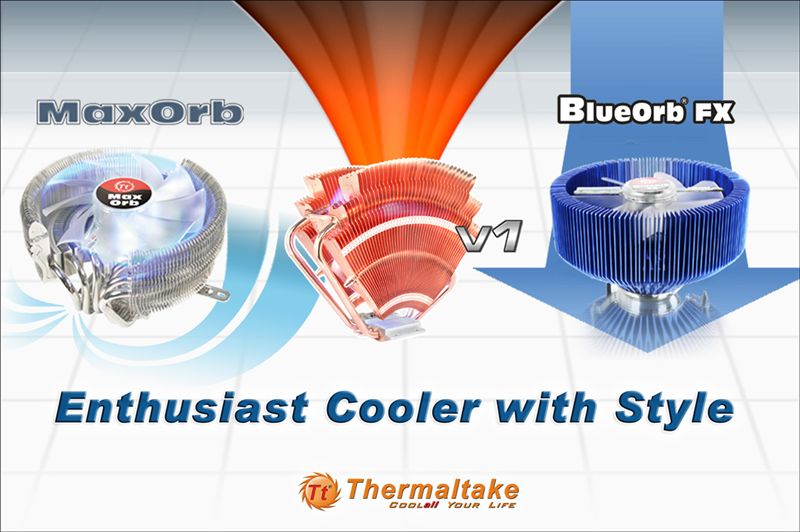 March, 2007 – Thermaltake Technology is launching three performance CPU coolers at CeBIT 2007 and these enthusiastic coolers all have incredible performances and exquisite appearance, they are V1, MaxOrb, and BlueOrb FX.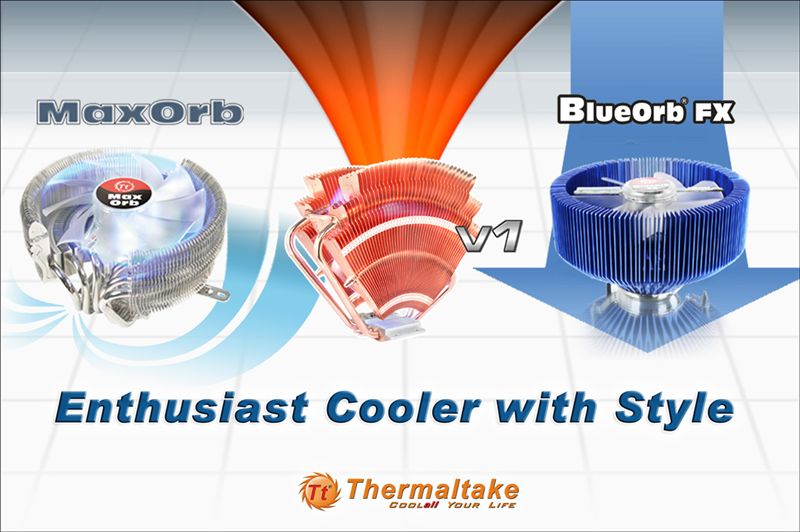 For users to get the firsthand look and information on these three extraordinary enthusiast coolers, Thermaltake created a fantastic Enthusiast Cooler with Style online campaign from March 15th to April 30th. Users not only can win over US$2000 worth of prizes by playing the interactive game in the online campaign website, they can also learn the new technologies and features these three enthusiast coolers have to offer when visiting the website. The URL of Enthusiast Cooler with Style online campaign is http://210.202.84.91/3coolers/index.html
Here are some brief information about the enthusiast coolers:
V1
V1 is an amazing fusion of performance, silence and appearance. V1 utilizes the newly developed 4 Channel – Dual-V Architecture Heatpipe Cooling, where V shaped copper fins are seamlessly attached onto 963mm of heatpipes, to accelerate heat dissipation. Side blow fan utilizes cool system air and allows it flow through the cooler to provide more effective cooling.
MaxOrb
MaxOrb's Radial Heat-Transfer Technology generates smoother multi-directional airflow and reduces turbulence when fan is operating; it also creates open channels from the center to the circumference to dissipate heat efficiently with cool air from all directions. With the larger cooling area & multi-directional airflow MaxOrb can cool the surrounding VRM as well.
BlueOrb FX
BlueOrb Fx's 12cm LED fan has real-time display that shows the current temperature around the fan and the noise level of the fan at the same time. Its patented Radiant design provides excellent multi-directional airflow which can cool the surrounding VRM as well.