(Auszug aus der Pressemitteilung)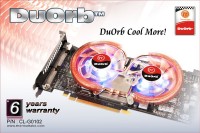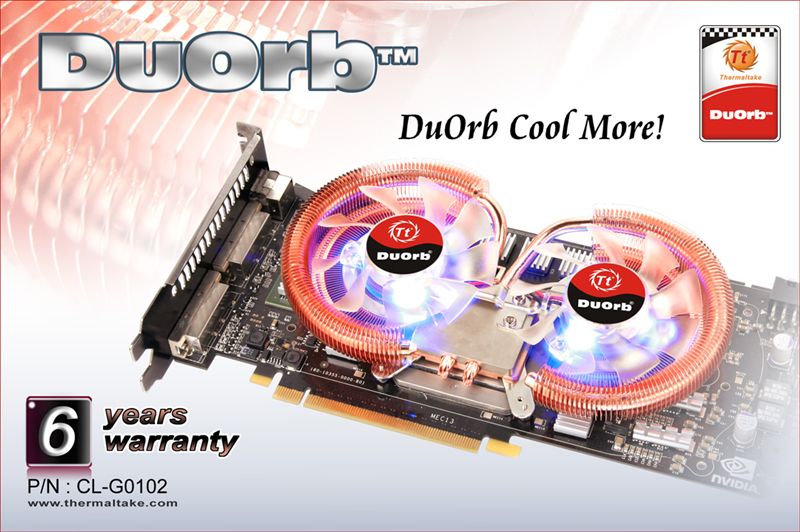 DuOrb Cool More! – Thermaltake High Performance VGA Cooler
(Excerpt from press release)
June 2007 – High performance gamers need high performance cooling solutions. It is the goal of Thermaltake to provide the best coolers to our customers always pursue the goal of providing the best products and the most efficient coolers.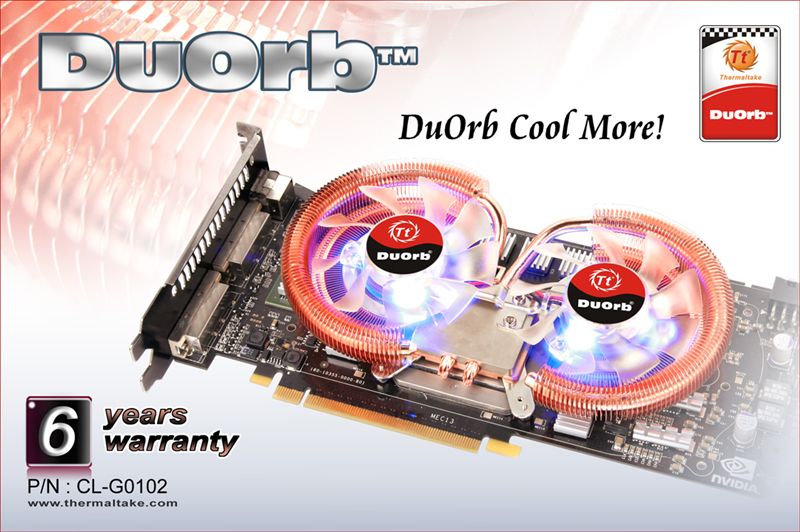 As technology progresses in the advancement of cooling technology, Thermaltake's research and development team will be unveiling the DuOrb VGA cooler at this year's Computex, being held in Taipei, Taiwan.
This unique figure 8 design is the first impression the DuOrb makes. The patented design features two separate fin configurations bringing an unprecedented visual aspect. The dual orb design enables greater potential for cooling as well as being visually stimulating. The high heat output of video cards is dissipated by the pure copper construction as well as the double heat pipes carrying the heat to two different sourced of heat radiating fins, cooling the GPU twice as fast and more efficient than using one radiating source. A newly designed Scurve ™ fan creates a quiet yet very effective cooling environment. Adding in 6 LED lights, this cooler is a shining example of cooling design brilliance.
The DuOrb is compatible with all high-end video cards currently on the market, the nVidia 8800/7900/7800/6800 series and ATi 1950/1900/1800 series. Along with the GPU cooler, the DuOrb is packaged with 4 VRM heatsinks and also 13 Thermal pad coolers for cooling memory and VRM chips.
The newest family member of the Orb series coolers, the DuOrb, continues the legacy of style with performance. New technology and style with the pursuit of excellence shows what Thermaltake has to offer, bringing professional level cooling to all levels of gamers and computer enthusiasts.