(Auszug aus der Pressemitteilung)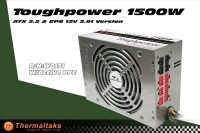 Toughpower 1500W 230V Edition – Power Supply for the Extreme
(Excerpt from press release)
June 2007 – The high-end graphics cards from nVIDIA and ATi which are taking graphics processing to the next generation are showing that they will have cards which consume power as high as 300w per card though the nVIDIA SLi and the ATi Crossfire setups. With multiple card gaming machines, just the video cards alone will require as much as 900W of power. The general power supply will be unable to accommodate the needs of such graphics processing. Only 1000W power supplies and above will be able to answer the call of high end gaming systems. As the trend of power hungry cards continues, Thermaltake has made a power supply that will not only satisfy the needs of the video processors but have enough juice to power the other high end components of the system. The Toughpower 1500W power supply will satisfy the pursuit of the ultimate computer system and the stringent requirements of those systems.
The Toughpower 1500W is designed to the highest standards exceeding the benchmarks of even the best power supplies on the market. The Toughpower 1500W supports the latest technologies including four 6-pin PCI-E connectors as well as four 8-pin PCI-E connectors. This allows for a system to have up to 4 video cards in SLi or Crossfire to provide the most out of a Quad Core Quad GPU system. There is no doubt that this power supply will satisfy consumers and leave them with a new experience. In addition, the 1500W Toughpower has four independent 12V rails with stable voltage output. The Toughpower 1500W has very stringent specifications for load voltage (± 3%), an efficiency rating of over 85% and conforms to the latest Intel ATX 12V 2.2 and EPS 12V 2.91 specifications. The power supply also includes a total of eight SATA and eight molex connectors to satisfy users with different hardware requirement. Active PCF design, 14cm ball bearing fan, honeycomb designed ventilation holes, specially designed cooling fins, a low noise high performance fan, gives this power supply the perfect combination of performance and comfort. Gamers unanimously recommend the embedded modular connectors design which makes cable management easy and reduces clutter in the case to increase air flow and cool the overall system temperature.
Thermaltake ensures that the 1500W Toughpower power supply to be of the highest quality and provide the ultimate reliability. Using state of the art high quality industrial components, the security of the system is no longer a question. The power supply is tested and certified by OVP, OCP, SCP and has gone through testing in high load and no load conditions and other security measures to ensure the safety of the electric components in the computer system. The Toughpower 1500W is no doubt a indispensable part of a high end gaming system.