(Auszug aus der Pressemitteilung)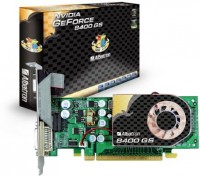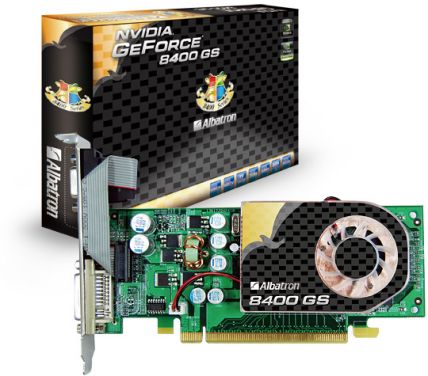 Albatron's 8400GS – Entry-Level Market gets DirectX 10, HD-DVD and Blue-Ray
Cost-conscious consumers get inexpensive VGA alternative with latest graphics technologies
(Excerpt from press release)
June 20, 2007 – Albatron Technology recently announced the 8400GS VGA for the Entry-Level market. What makes this news exciting is that it gives cost-conscious users access to very advanced technologies that are, themselves, just entering the market. These technologies include support for DirectX 10 and Shader Model 4.0 Video Games, HD-DVD and Blue-Ray video playback. It is a huge step up from integrated graphics and provides a low cost solution to bring Windows Vista 3D performance to your desktop.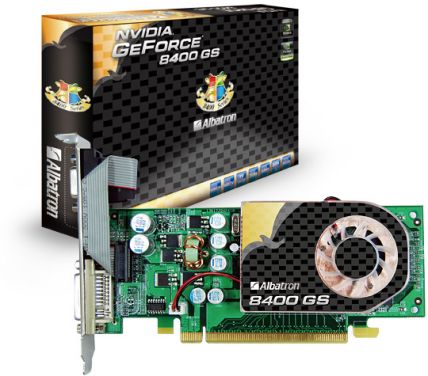 DirectX 10 and Shader Model 4.0 Gaming
The expectations are reaching boiling-point for DirectX 10 and Shader Model 4.0 gaming features and as we start to see DirectX 10 games spilling into the market, we can begin to realize the performance features that DirectX 10 VGA cards can bring. Albatron DirectX 10 VGA cards hit the market late last year with enthusiast 8800 Series VGA cards with Mainstream cards introduced in April this year. Now the circle is complete with the Albatron 8400GS for the Entry-Level segment.
Blue Ray and HD-DVD video playback and PureVideo HD
If you stopped by the Albatron Showroom at Computex 2007, you could have witnessed the astounding clarity and precision resolution of Blue-Ray video. Both HD-DVD and Blue-Ray boast resolutions up to 1980×1080 and if that doesn't make you blink, think of your current DVD movies (720×576) but with almost twice the resolution. You have to see it to believe it. Another advantage for this card is that it features NVIDIA's PureVideo HD technology which will protect your CPU from video playback impact focusing most of the processing on the GPU itself.
Albatron 8400GS specs
The 8400GS is equipped with the NVIDIA® 8400 GS GPU which was built on 65nm process technology and has a 450 MHz clock. The card also comes with 256 MB of DDR II memory with a 400 MHz clock and a 64 bit memory bus. This card has a Dual-Link DVI connector supporting a 2560 x 1600 display. It also has TV-Out and a D-Sub connector.
As mentioned, the 8400 GS GPU on this card includes NVIDIA's PureVideo HD technology providing MPEG-2, VC-1, H.264 encoding formats. This card also supports High Dynamic Range Lighting and contains the Lumenex Engine for DirectX 10 and Shader Model 4.0 support. Intellisample 4.0 and Ultrashadow II is also contained and HDCP is supported.
Unprecedented Entry-Level VGA with Cutting-Edge graphics technologies
It's not often that you see Entry-Level products geared up for horizon technologies but that is just what the Albatron 8400GS provides. It is a low cost solution that lays the foundation for exciting technologies that are just around the corner.