(Auszug aus der Pressemitteilung)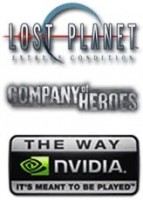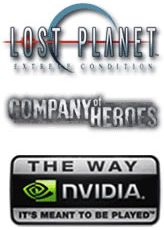 XFX Brings First DirectX 10 Compatible Games to Enthusiasts
(Excerpt from press release)
Ontario, Calif. July 30, 2007 – For a limited time, gaming enthusiasts can get the best graphics cards available conveniently and exclusively bundled with complete versions of the popular, highly anticipated DirectX® 10-compatible games on the market: Company of Heroes and Lost Planet.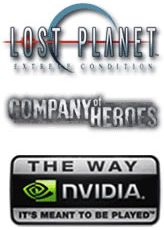 Specifically XFX is bundling select 8600 Series cards with the complete version of Company of Heroes. It is bundling all of its 8800-series cards with a complete version of Lost Planet. Some countries also will have an XFX nForce motherboard bundle available with a DX10 game.
"This is a fantastic bundle for the new gamer as well as the veteran gamer who wants the latest technology for superior game play," said Ryan Dumas, XFX Technical Marketing Manager. "Combined with the newly released BIOS updates for the XFX nForce 600i Series motherboards, which now also support the latest Intel Dual Quad Core processors and 1333 MHz FSB, everyone should be prepared to be immersed in a new realm of gaming."
XFX 8-Series cards support DirectX 10, which offers dramatically improved graphics rendering for more lifelike characters and sharper shadows. Gamers also will notice that DirectX 10 draws the user into richer, more complex environments and provides more realistic motion-blurring than even that found in DirectX 9. The improved 3D graphics and enhanced effects mean one thing: a richer, more realistic gaming experience.
"DirectX 10 is noticeably different," explains Dumas. "From the reflections, the shadows, and especially on the faces, it's like you're right in there, facing real—not imaginary—opponents."
XFX's 8-Series cards are specifically designed for DirectX 10 and DirectX 9 gaming, delivering unparalleled levels of graphics realism and performance. They also are the reference GPUs for DirectX 10 API development and certification.
All of the cards feature advanced unified architecture for more lifelike character animation and rich, immersive gaming environments. An NVIDIA Lumenex™ engine delivers incredible image quality and stunning High Dynamic Range (HDR) lighting effects with twice the precision of previous generations. High-speed memory interface and dual-link DVI outputs enable extreme HD gaming at resolutions up to 2560X1600.
Several models from the 8-Series line of cards also come with a new video processor that enables the ultimate Blu-Ray and HD DVD movie experiences. This is the world's first video processor that can offload 100 percent of Blu-Ray and HD DVD movie playback from the CPU. NVIDIA PureVideo HD technology delivers outstanding picture clarity, ultra-smooth video, vivid color, and precise image scaling for movies and video.
The 8 Series cards are certified for Windows Vista Premium, and are essential for accelerating the Windows Vista Experience. The cards enable faster desktop response time, support multiple monitors and provide instant access to multiple open windows for more efficient multi-tasking.
In some countries, specific bundle availability may vary.