(Auszug aus der Pressemitteilung)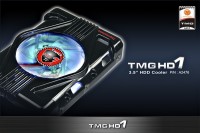 August, 2007 – Are you worried that your hard drive temperature is too high? Worried that the efficiency and lifespan of your hard drive is shortened by excessive heat?

We have good news for users that resolve these heat issues. Thermaltake Technology Inc will be launching the new TMG HD1 3.5" hard drive cooler. The TMG HD1 uses a special 8cm blue LED fan with a dBA value of only 16.
TNG HD1 is designed with the shape of a hard drive to be placed in the HDD cage under your hard drive; the surrounding cold air will then be force to blow up directly to your hard disc above the TMG HD1. Installation is simple, compatible with tooless designs on chassis. The appearance is a fashionable black surface. The TMG HD1 is protected by a 6 year warranty period. The TMG HD1 is the best choice to cool hard drives.