(Auszug aus der Pressemitteilung)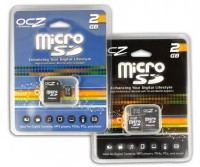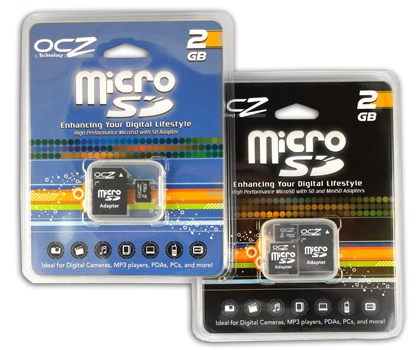 Delft, Netherlands—August 28, 2007 – OCZ Technology Group (LSE: OCZ), a worldwide leader in innovative, ultra-high performance and high reliability memory, today introduced 1GB and 2GB microSD™ cards and adaptor kits to their diverse flash memory series. Making use of the extensive multimedia capabilities of mobile phones and PDAs, OCZ microSD cards are the convenient storage solution for pictures, music, ringtones, and video files on even the most advanced digital electronics.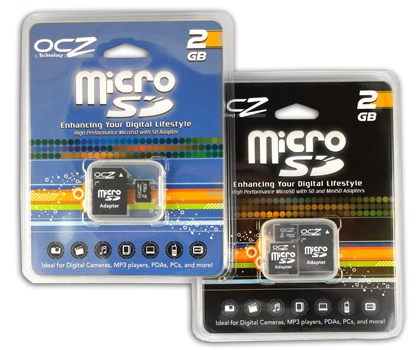 OCZ microSD cards are a necessity for cutting-edge cell phones and mobile accessories that can store high-resolution multimedia files. With up to 2GB storage capacity, an OCZ microSD card can hold hundreds of digital songs, pictures, games, and hours of video. As the smallest form of flash memory on the market, microSD is the most common storage option with new cutting-edge electronics, ensuring your OCZ card will be compatible with multiple devices.
The OCZ microSD utilizes the latest technology in flash memory, and at one-fourth the size of a standard Secure Digital™ card it is the ultimate portable media device. OCZ microSD cards come complete with an SD adaptor to make transferring and viewing data between various devices easier while a second version also includes a miniSD™ adaptor for maximum compatibility.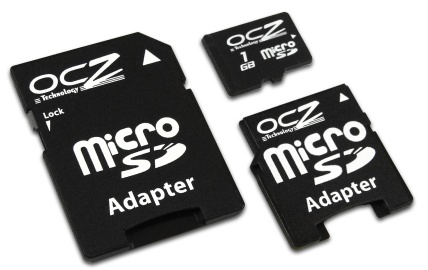 "With such a wide range of consumer devices it is often hard for consumers to both pick the right type of SD memory, and it is just as difficult trying to manage three different types of cards among various phones, PDAs, and MP3 players," said Alex Mei, Chief Marketing Officer, OCZ Technology Group. "OCZ is releasing two different multi microSD kits complete with either an adapter for SD or both adapters for miniSD and SD. Never before has it been easier to buy a single type of SD memory to transfer data or pull double duty between your consumer electronics."
As mobile devices become a necessity, only the most reliable memory should store your important data, music, and images. All OCZ microSD flash cards come backed with a 1 year warranty for unparalleled peace of mind, upholding the OCZ commitment to quality.