(Auszug aus der Pressemitteilung)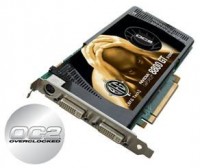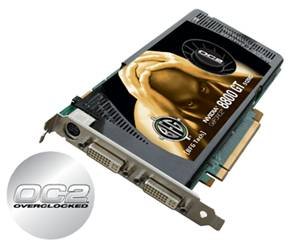 Lake Forest, IL – (November 16, 2007) – BFG Technologies®, Inc., the leading North American and European NVIDIA supplier of advanced 3D graphics cards, motherboards, power supplies and other PC enthusiast products, announced today the BFG NVIDIA® GeForce® 8800 GT OC2™ 512MB PCI Express™ 2.0 graphics card for a suggested retail price of $319 USD.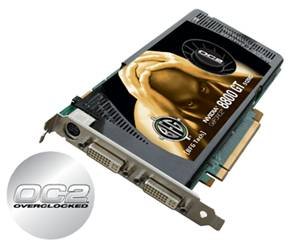 "Just in time for the launch of the hottest game of the season, the BFG NVIDIA GeForce 8800 GT OC2 512MB offers mind-blowing performance at an insane price" said Dean Brady, Sr. Director of marketing at BFG Technologies.
8800 OC2 Performance, BFG Tech Quality
When you want the fastest hand-picked 100% tested 8800 GT, look no further than the BFG OC2 series. The BFG NVIDIA GeForce 8800 GT OC2 512MB is the perfect match of performance and reliability, all backed by a legendary true lifetime warranty and 24/7 tech support!
BFG NVIDIA GeForce 8800 GT OC2 512MB:
Core Clock: 675MHz vs. standard 600MHz.
Shader Clock: 1674MHz vs. standard 1500MHz.
Memory Clock: 1950MHz vs. standard 1800MHz.
Features include:
Full Microsoft DirectX 10 Support: World's first DirectX 10 GPU with full Shader Model 4.0 support delivers unparalleled levels of graphics realism and film-quality effects.
Built for Microsoft® Windows Vista™: NVIDIA's fourth-generation GPU architecture built for Windows Vista gives users the best possible experience with the Windows Aero 3D graphical user interface.
PCI Express 2.0 Support: Designed to run perfectly with the new PCI Express 2.0 bus architecture, offering a future-proofing bridge to tomorrow's most bandwidth-hungry games and 3D. PCI Express 2.0 products are fully backwards compatible with existing PCI Express motherboards for the broadest support
OpenGL® 2.0 Optimizations and Support: Ensures top-notch compatibility and performance for OpenGL applications.
NVIDIA® PureVideo™ HD Technology2: The combination of high-definition video decode acceleration and post-processing that delivers unprecedented picture clarity, smooth video, accurate color, and precise image scaling for movies and video.
NVIDIA nView Multi-Display Technology: Advanced technology provides the ultimate viewing flexibility and control for multiple monitors.
NVIDIA ForceWare Unified Driver Architecture (UDA): Delivers a proven record of compatibility, reliability, and stability with the widest range of games and applications.
Innovators of the True Lifetime Warranty
When BFG says "Lifetime Warranty" we mean it. Every BFG graphics card sold since our inception has carried a True Lifetime Warranty and there aren't any tricks or hidden details. If you ever need help, our expert support technicians are available 24 hours a day, 7 days a week, even on holidays!
The BFG NVIDIA GeForce 8800 GT OC2 512MB is available at leading retail and etail outlets throughout North America and Europe.