(Auszug aus der Pressemitteilung)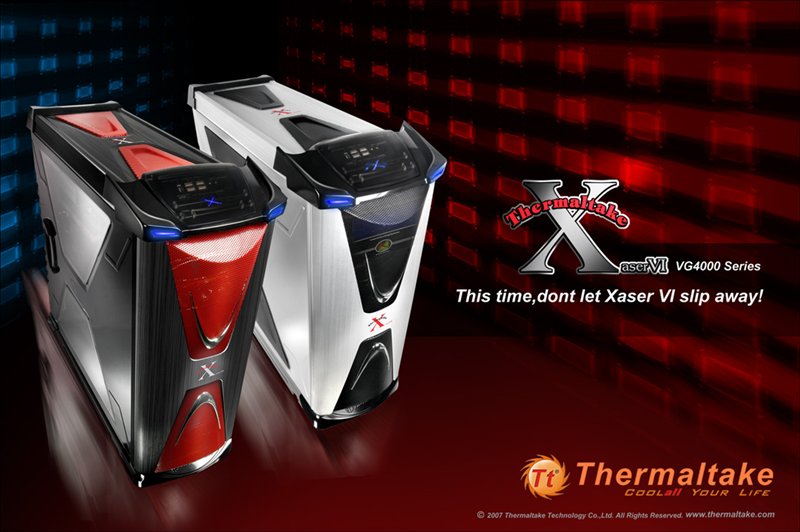 November, 2007 – The Thermaltake Xaser Chassis family appeared as if milled from a solid piece of aluminum. As Thermaltake spearheaded the developments of innovative construction techniques, the company has made some of the world's most beautiful cases than ever. The new Xaser VI, the most powerful version evolved from the well-liked Xaser family, can be experienced at its exclusive website now!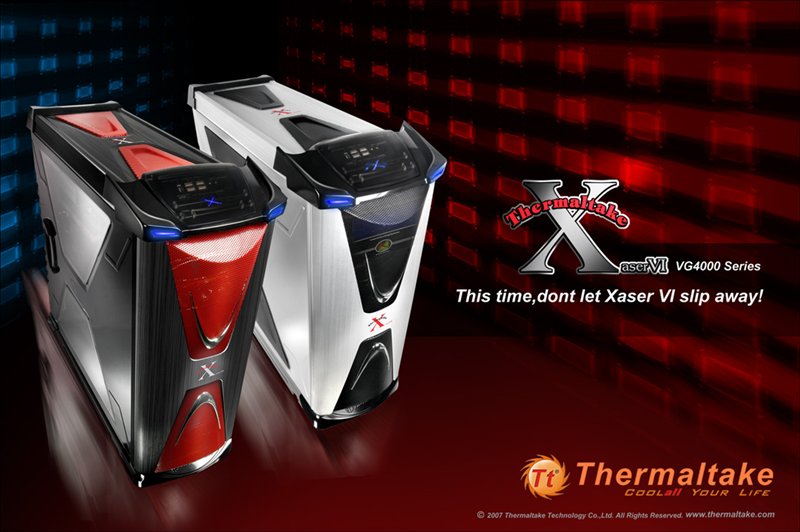 The lightweight aluminum and composite structure of Xaser XI is unique to Thermaltake. It is the special combination of materials that created the streamline appearance and solid construction for both style and durability. With harmonious proportions, taut surfacing and thorough attention to the details, Xaser VI has been born to make their owners proud. Apart from the external beauty and elegance, you will be equally impressed by its inner structure with stunning blend of innovation and tradition. Excellent ventilation and optimized system airflow is offered by the entirely metal grilled body and the well organized fan cooling system that manage CPU, VGA and HDD thermal independently.
Granted from user experiences, the new design of motherboard tray and cable management in Xaser VI provides great installation convenience. Together with the special tool-free design for 5.25", 3.5" devices and PCI slot, installation process can be further minimized. Moreover, Thermaltake has also bravely implanted many features that no other chassis ever achieved, such as the 10 PCI slots, 14 drive bays and adjustable PSU supporting bridge. Thermaltake make sure enough space is offered for extreme expandability of PC players, from micro-ATX to extended-ATX motherboard and even quad graphic cards. The liquid cooling version of Xaser VI, also available in the near future, will be embedded with the special enhanced liquid cooling unit on three 5.25" drive bays that are extremely space saving with only 5 quick steps to set up required.
Xaser VI is a state-of-art combines with many impressive new features. Its modern design and innovative structure will surely make you the trendsetter of PC industry with distinctive personal style. Experience this super tower at the exclusive Xaser VI website with information on the global market availability schedules today!