(Auszug aus der Pressemitteilung)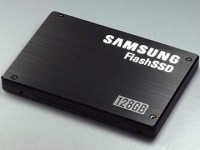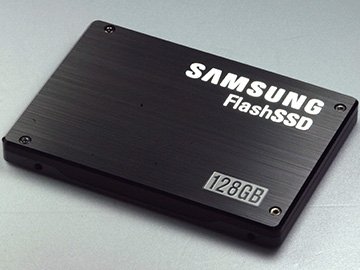 Las Vegas, NV – January 6, 2008 – Samsung Electronics Co., Ltd., the leader in advanced semiconductor technology, announced today that it has developed a multi-level cell (MLC) flash-based 128 Gigabyte (GB) solid state drive (SSD) that it will produce this year in 1.8-inch and 2.5-inch versions for notebook and desktop PCs, as well as other mobile applications. The new drive offers a data writing speed of 70 megabytes per second (MB/s), the industry's highest for MLC-based SSDs.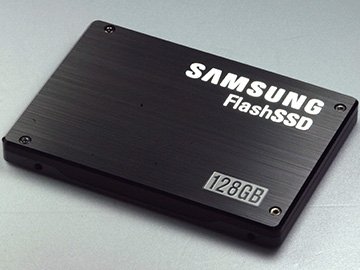 Samsung's 128GB SSD will be demonstrated in a notebook PC at CES 2008 in its Semiconductor Product Showcase, Room N236, at the Las Vegas Convention Center (LVCC), North Hall, 2nd Floor. The complete suite of Samsung SSDs will also be displayed at Samsung Electronics' Booth 11033, in the LVCC's Central Hall.
The Samsung MLC-based SSD's write speed of 70MB/s was achieved through the use of optimized controller technology and highly efficient flash-management firmware technology. Adding to its exceptional performance, Samsung's 128GB SSD reads data at 100MB/s.
"Our SSD can be used by the widest range of notebooks, particularly where more storage is needed beyond typical business applications," said Gerd Schauss, director, memory marketing, Samsung Semiconductor Europe GmbH.
Samsung's 128GB SSDs will be available in a thin-standard 1.8-inch version that is five millimeters thick, to spur the design of thinner ultra-mobile PCs, in addition to a conventional 1.8-inch version for mobile consumer applications and a 2.5-inch version for standard-sized notebooks.
Featuring a 3.0 gigabit-per-second SATA II interface, the new 128GB SSD uses native command queuing and spread-spectrum clocking to add to its higher performance levels. It also features device/host-initiated power management for an exceptionally low power consumption level of 0.5W in active mode.
Samsung's state-of-the-art wear-leveling technology, combined with its advanced flash management technology, provides high reliability for its MLC-based-SSD and a mean time between failures (MTBF) of one million hours.
A pioneer in the development of SSDs, Samsung released a 32GB PATA SSD in March 2006, followed by a 64GB version using the SATA I interface in March 2007 and the first 64GB SATA II SSD in November 2007. Development of Samsung's 128GB MLC-based SSD is a result of efficiencies enabled by the company's unique combination of NAND flash memory, firmware and controller technology for flash management.
According to market research firm Web-Feet Research, the SSD market is expected to reach US$570 million in 2007 and increase to US$6.6 billion by 2010 – a compound annual growth rate of over 120 percent.
Samsung expects to begin mass producing its 128GB SSD in the first half of 2008.