(Auszug aus der Pressemitteilung)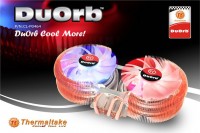 February,2008 – Thermaltake is well known for providing hi-performance and top notch cooling solutions for all extreme gamers and PC players. The preview of new twin fan DuOrb CPU cooler released at the beginning of 2008 had attracted many enthusiasts' interests. Thermaltake releases the official webpage with detailed product features of this new cooler today and its market availability in Q1, 2008 according to region.
DuOrb CPU cooler, supporting Intel socket LGA775 and AMD socket AM2/AM2+, has extended the twin fan design concept from the previous DuOrb VGA cooler; it has been strongly designed with 6 different heat radiating channels, Blue-Red LED fan lights, two 80mm fans along with the pure copper construction. The 6 independent heatpipes transmitting the CPU heat evenly to the two separated heat radiation area constructed with copper fins and powerful fans that makes cooling exceptionally efficient. The mirror coating copper base also develops perfect heat dissipating contact surface between CPU and the heat sink.
The excellent dual-flow design and wider coverage of the twin fan of DuOrb CPU cooler further utilizes system air flow to cool down surrounding temperatures and dissipate the heat of CPU, VRM, North Bridge, VGA card, and RAM all together. Despite the careful concerns on the cooling performance, many have made strong impression on the unique 8 shaped look of Thermaltake DuOrb series coolers at the first sight. It is not only the patent mechanic shape design that makes the cooler pop out, but the pure copper construction of the heatpipes, radiate fins and the mirror coating base will also add up an extra copper shine to both your system and personal aesthetics.
With this amazing design of DuOrb series cooler, Thermaltake maintains the focus and insistence on innovation in performance and style for worldwide PC enthusiasts. Take a closer look at this new bomb in the cooler market today: