(Auszug aus der Pressemitteilung)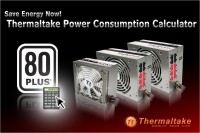 February,2008 – Thermaltake Technology today announced the launch of its Power Supply Calculator for all PC users! This Power Consumption Calculator will be the best tool to help enthusiasts figure out the total system power consumption with simple hardware selections.
PSU wattages consumption is a crucial question of all PC users. Although there are plenty of power supply calculators on the Internet but only few of them can provide accurate numbers. In order to help choosing an ideal power supply unit, Thermaltake incorporated Power Supply Calculator into its new 80Plus website. Thermaltake's 80Plus website is dedicated to the introduction of all Tt 80Plus certified power supply units. The US based 80PLUS program certifies PSU that has 80% or higher energy efficiency rate at 20%, 50%, and 100% of loading, plus power factor of 0.9 or greater. This 80PLUS certification requirement is how you can distinguish a truly efficient power supply unit.
The website not only introduces Thermaltake's latest 80Plus certified products but also provides two steps guidance to help users calculate their system power consumption and the amount of money saved with a 80Plus certified PSU. This Power Supply Calculator has included all the latest CPUs and video cards on the market, as well as the number of fan and the type of water cooling kit. This will certainly be the best tool to provide the most accurate system power consumption for you! Take a look at Thermaltake 80PLUS and Power consumption calculator now, and start saving!