(Auszug aus der Pressemitteilung)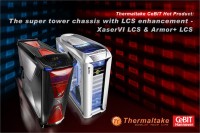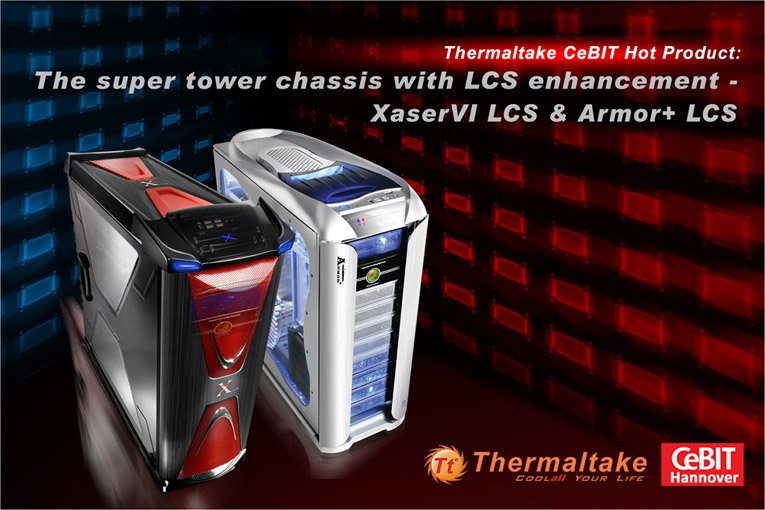 February,2008 – This year at CeBIT Hannover, you'll be able to discover Thermaltake's latest super tower LCS chassis, XaserVI LCS & Armor+ LCS. Enhanced with liquid-cooling capability, you'll never need to worry about system over-heating anymore!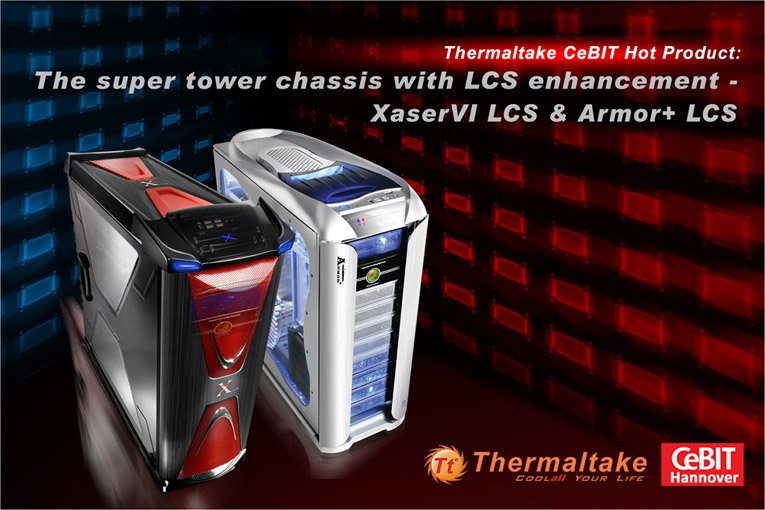 XaserVI LCS & Armor+ LCS has a pre-installed liquid cooling system occupying three 5.25 drive bay at the front. With the LCS per-installed in the chassis, only 5 simple steps will be needed to complete their LCS system installation. Thermaltake has strategically placed the radiator, pump and reservoir in the drive bay unit to achieve maximum thermal performance with extreme space saving. And with the XaserVI LCS & Armor+ LCS extra sliding hood on top, liquid-cooling system maintenance will be easy as ever achieved before.
Also has Thermaltake bravely implanted many features in these new XaserVI and Armor+ case series that no others had ever done before. The revolutionary features includes: 10 PCI slots, 14 drive bays, adjustable PSU supporting bridge and specially enhanced LCS on three 5.25 drive bay. XaserVI LCS & Armor+ LCS is world first chassis to implant 10 PCI slots, benefiting users who have 3 to 4 graphic cards platform demands. Along with 14 drive bays, expandability of XaserVI LCS and Armor+ LCS will never be an issue!
XaserVI LCS & Armor+ LCS will bring a whole new experience to all PC players, LCS installation is simplified as never before, everyone can have fun with LCS now! XaserVI LCS and Armor+ LCS is a state-of-art combining with many impressive new features. Its modern design and innovative structure will definitely honor all owners as the trendsetters of PC industry!