(Auszug aus der Pressemitteilung)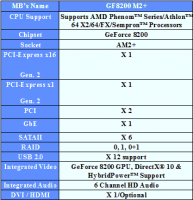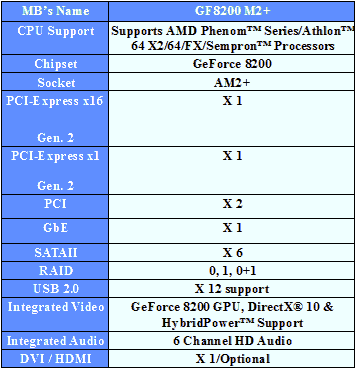 March-2008, Taipei Taiwan – BIOSTAR Microtech Int'l Corp., a professional manufacturer of motherboards has launched GF8200 M2+ supporting the environment friendly HybridPower™ Technology improving the overall power consumption of your desktop. GF8200 M2+ unleashes graphics performance when you need it with GeForce® Boost Technology or opt for quiet, low-power PC experience with HybridPower™. Plug your GeForce GPU into GF8200 M2+ for ultimate control which dials up performance when you game or watch video; go green and reduce noise and power consumption when you're just surfing the web, emailing, and word processing.
Built For Top Graphics Experience
BIOSTAR GF8200 M2+ is built for Microsoft® Windows Vista™. BIOSTAR uses the latest NVIDIA's GPU architecture to offer the best possible experience with Windows Aero 3D graphic graphical user interface and DirectX® 10 GPU with full Shader Model 4.0 support delivers unparalleled levels of realism and film-quality effects.
Built For Multi-Functional System
GF8200 M2+ is a multi-functional motherboard. It supports the following technology that powers your personal computer:
GigaThread™ Technology
Massively multi-threaded architecture supports thousands of independent, simultaneous threads, providing extreme processing efficiency in advanced, next generation shader programs.
NVIDIA® Lumenex™ Engine
Delivers stunning image quality and floating point accuracy with ultra-fast frame rates:
16X Anti-aliasing Technology
Lightning fast, high-quality anti-aliasing at up to 16x sample rates obliterates jagged edges.
128-bit Floating Point High Dynamic-Range (HDR) Lighting
Twice the precision of prior generations for incredibly realistic lighting effects-now with support for anti-aliasing.
NVIDIA® ForceWare® Unified Driver Architecture (UDA)
Delivers a proven record of compatibility, reliability, and stability with the widest range of games and applications. ForceWare provides the best out-of-box experience for every user and delivers continuous performance and feature updates over the life of NVIDIA GeForce GPUs.
OpenGL 2.0 Optimizations and Support
Ensures top-notch compatibility and performance for OpenGL applications.
NVIDIA® nView® Multi-Display Technology
Advanced technology provides the ultimate in viewing flexibility and control for multiple monitors.
300 MHz RAMDAC
Blazing-fast RAMDAC supports display with high, ergonomic refresh rates up to and including 1920×1440@75Hz.
PureVideo® HD Technology
PureVideo™ HD technology is the combination of high-definition video decode acceleration and post-processing that delivers unprecedented picture clarity, smooth video, accurate color, and precise image scaling for movies and video. PureVideo HD includes required content protection circuitry (HDCP) for playing the new Blu-ray and HD DVD movies at the highest quality possible, and is directly integrated with the leading HD movie software players. PureVideo HD delivers the ultimate high-definition movie experience on a PC.
High-Definition H.264, VC-1, and MPEG-2 Hardware Acceleration
100% hardware decode of all H.264, VC-1, and MPEG-2 video frees CPU bandwidth for other tasks.
Video Scaling and Filtering
High-quality scaling and filtering technology delivers a clear, clean image at any window size, including full-screen HDTV resolutions.
Inverse Telecine (3:2 & 2:2 Pulldown Correction)
Recovers original film images from films-converted-to-video (DVDs, 1080i HD content), providing more accurate movie playback and superior picture quality.
Bad Edit Correction
When videos are edited after they have been converted from 24 to 25 or 30 frames, the edits can disrupt the normal 3:2 or 2:2 pulldown cadence. PureVideo uses advanced processing techniques to detect poor edits, recover the original content, and display perfect picture detail frame after frame for smooth, natural looking video.
Video Color Correction
Color Correction Controls make actors' faces appear natural, rather than
washed out and pale, when playing videos on LCD and CRT displays. Display gamma correction ensures videos are not too dark, overly bright, or washed out regardless of the video format or display.
HD Movie Player Integration
PureVideo HD technology powers the world's leading HD movie player software applications, providing the optimal HD DVD and Blu-ray movie experience.
Integrated HDMI with HDCP
On board HDMI connector designed to meet the output protection management (HDCP) and security specifications of the Blu-ray Disc and HD DVD formats, allowing the playback of encrypted movie content on PCs when connected to HDCP-compliant displays.
PCI Express 2.0 Support
Designed to support the new PCI Express 2.0 bus architecture, offering a future-proofing bridge to tomorrow's most bandwidth-hungry games and 3D applications by maximizing 5 GT/s of bandwidth (twice that of first generation PCI Express). PCI Express 2.0 motherboards are fully backwards compatible with existing PCI Express products for broad support of PC peripherals.
High Definition Audio (HDA)
High definition audio brings consumer electronics quality sound to the PC delivering high quality sound from multiple channels. Using HDA, systems can deliver 192 kHz/32-bit quality for eight channels, supporting new audio formats.
Specification