(Auszug aus der Pressemitteilung)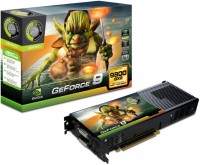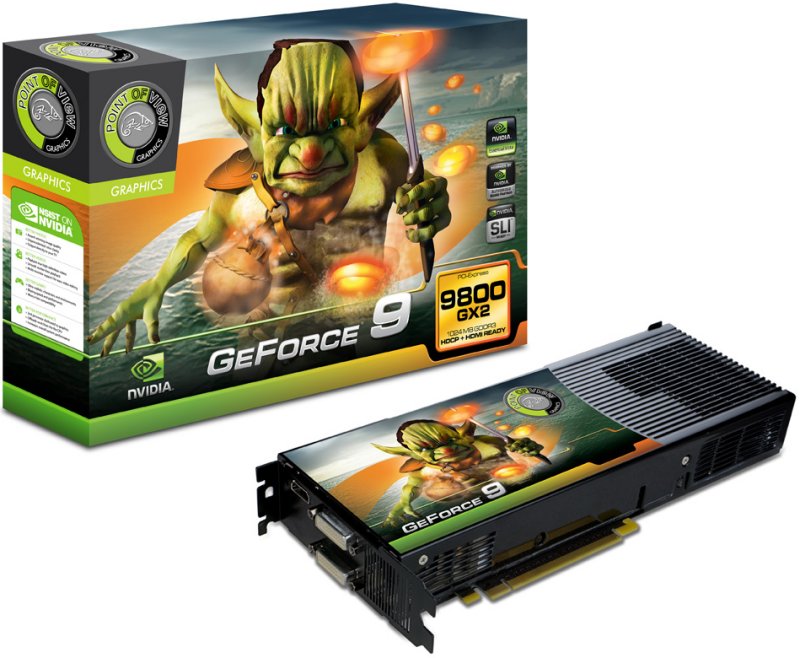 POINT OF VIEW, well known for its range of NVIDIA based Graphics cards, is launching today the newest, and most powerful graphics card in the highly anticipated GeForce 9 graphics card series, the GeForce 9800 GX2.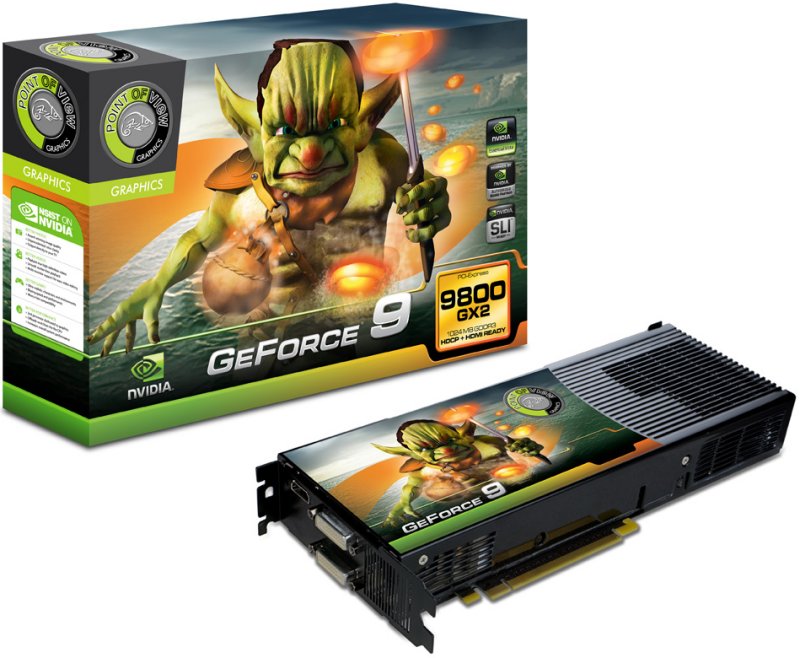 As all cards within GeForce 9 graphics card series, the GeForce 9800 GX2 is built on a 65nm format, which improves power efficiency and allows better clock speeds and performance. The PCI-Express 2.0 bus offers the two GPUs a double bandwidth of 5.0 Gbit/sec to work with.
This 1024 MB, 2 Gigahertz GDDR3 packing monster has two cores running on 600 Mhz and no more than 256 stream processors doing their work on 1500 Mhz. This brute force machine has enough power to take on any game on the market! So get astounded by the massive and solid performance of the new godfather of graphics. Expect maximum performance, maximum detail and maximum resolutions, and everything as smooth as a baby!
The 9800 GX2 GPUs have native and onboard support for HDMI to easily connect your High-definition TV or screen. To complete the 'HD'-support; the card has an internal S/PDIF connector to put your high-def audio signal directly onto the HDMI cable!
Whether you're gaming on double screens or watching HD movies on your TV; with two DVI-ports, one HDMI port and an internal SPDIF port, this card is ready for it all.
As all next-generation graphics cards, the GeForce 9800 GX2 has full support for:
Native support for Blu-ray and HD-DVD decoding through PureVideo HD (H.264 and VC-1)
Support for Microsoft DirectX 10 and 9 and Shader model 4.0
All efficiency improving functions of Vista such as Windows Sidebar
NVIDIA SLI® support (Quad SLI for the GeForce 9800 GX2)
As a special bundle, we've included the game: Frontlines: Fuel of War into the box. The GeForce 9800 GX2 and the GeForce 9800 GX2 + Frontlines: Fuel of War bundle is available from March 18th 2008.
Visit the "Where to Buy" section of our website for a sales point in your country and look out for the Special Frontlines: Fuel of War sticker.