(Auszug aus der Pressemitteilung)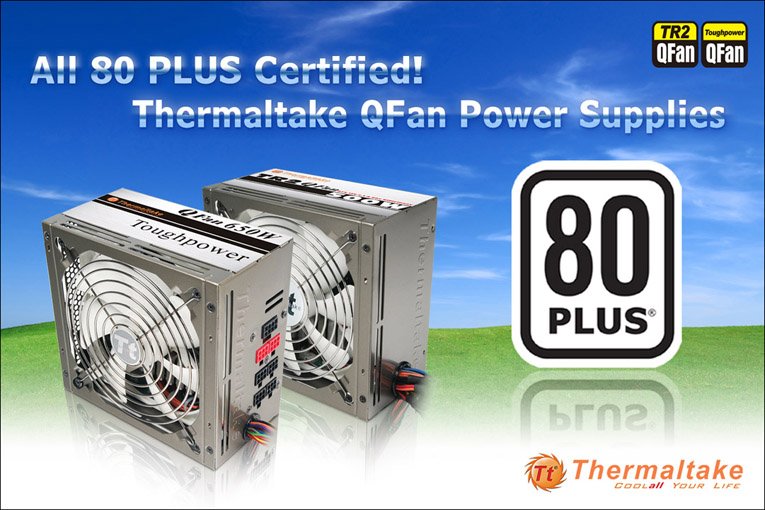 March,2008 – Thermaltake Technology is pleased to announce its eco-friendly power supply series, Toughpower QFan 500W/650W and TR2 QFan 300W/350W/400W/450W/500W, all certified by 80 PLUS Energy Efficiency Program in March 2008. The 80 PLUS program certifies PSUs that have 80% or higher energy efficiency rate at 20%, 50%, and 100% of loading, plus power factor of 0.9 or greater. This requirement makes a computer with an 80 PLUS certified power supply installed inside use around 15 percent to 25 percent less electricity than other computer.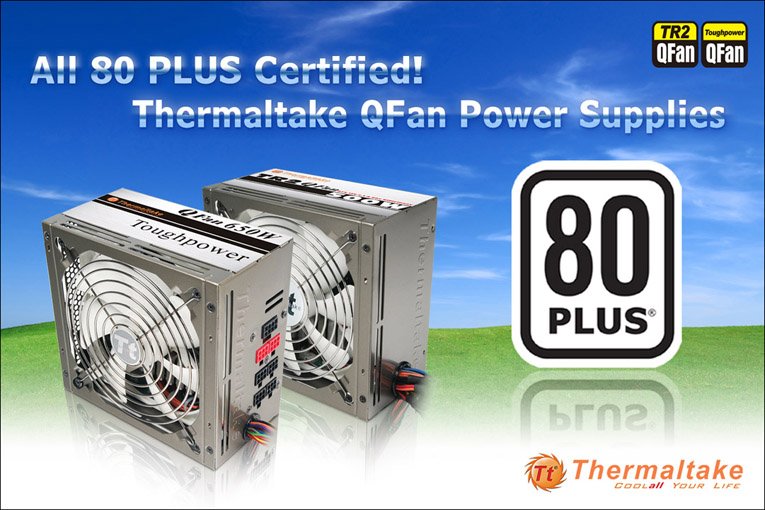 Thermaltakes Toughpower QFan 500W/650W has gained a strong reputation for extreme silence and excellent energy saving since its launch in August 2007. This year, to provide system builders with a richer range of QFan power supplies, Thermaltake introduced the TR2 QFan 300W/350W/400W/450W/500W for eco-conscious users with lower wattage requirements and also the needs for excellent thermal dissipation and extreme silence. Both Toughpower QFan and TR2 QFan series are equipped with a patent 140mm silent QFan to reduce the overall noise. The innovative QFan has a unique patent blade shape design and a 360X open frame, effectively minimizing the noise output. Compared with standard fans, QFans five-way air intake has not only greatly increased the air flow but also improved the thermal dissipation ability.
Equipped with Double Forward Converter Design and Active Power Factor Correction, Toughpower QFan and TR2 QFan series can reach up to 85 percent efficiency and the power factor will be almost 0.99. These figures prove the performance of Toughpower QFan and TR2 QFan series to exceed far beyond the 80 PLUS Programs requirement. Toughpower QFan 500W/650W comes with up to four individual +12V rails to provide a clean output and the voltages are within stringent voltage specifications of 3%. TR2 QFan 300W/350W/400W/450W/500W also has two independent +12V rails to provide stable output for PC systems. Besides, both series comply with Intel ATX 12V and supports NVIDIA & ATI latest graphic cards and Intel & AMD Dual/Quad Core technologies.
With the addition of Toughpower QFan 500W/650W and TR2 QFan 300W/350W/400W/ 450W/500W, Thermaltake 80 PLUS certified power supplies will range from the basic 300W to the extreme 1200W and the total certified models will be 20 models. Thermaltake is committed to provide users with the widest range of eco-friendly power supply units that are all energy-efficient and 80Plus compliant.