(Auszug aus der Pressemitteilung)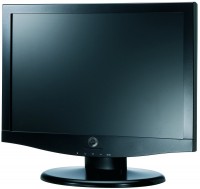 POINT OF VIEW, well known for its range of NVIDIA based Graphics cards, is launching today a new line of Point of View TFT monitors.
With the visual appearance of digital home devices and computer hardware becoming more and more alike, Point of View caters the user with a more exquisite taste. The design of the TFTV19WPBSD01 and TFTV22WPBSD01 has been stylized with a small border and a piano-black finish.
The POV TFT Monitors are respectively equipped with 19" and 22" high-quality widescreen panel with a 16:10 aspect ratio. The monitors support both DVI and VGA input as input methods and easy switching between them is possible through the multi-lingual OSD. For multimedia functionality we've integrated non-visible 2x2W speakers into the chassis. Packed with a low response time and high contrast to ensure a sharp and ghosting-free image, these monitors are suitable for all types of usage. Whether it's used for the daily work, gaming or high definition movies; the bright and vivid image will offer the user an optimal multimedia enjoyment.
To make the package complete: Point of View offers these TFT Monitors with a 30-days dead pixel warranty and pickup and return warranty. The 19″ variant will be directly available and you can expect the 22″ version in the upcoming months. Contact your POV retailer availability or visit the "Where to Buy" section of our website for a sales point in your country.