(Auszug aus der Pressemitteilung)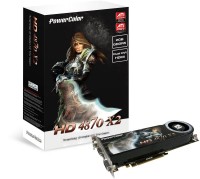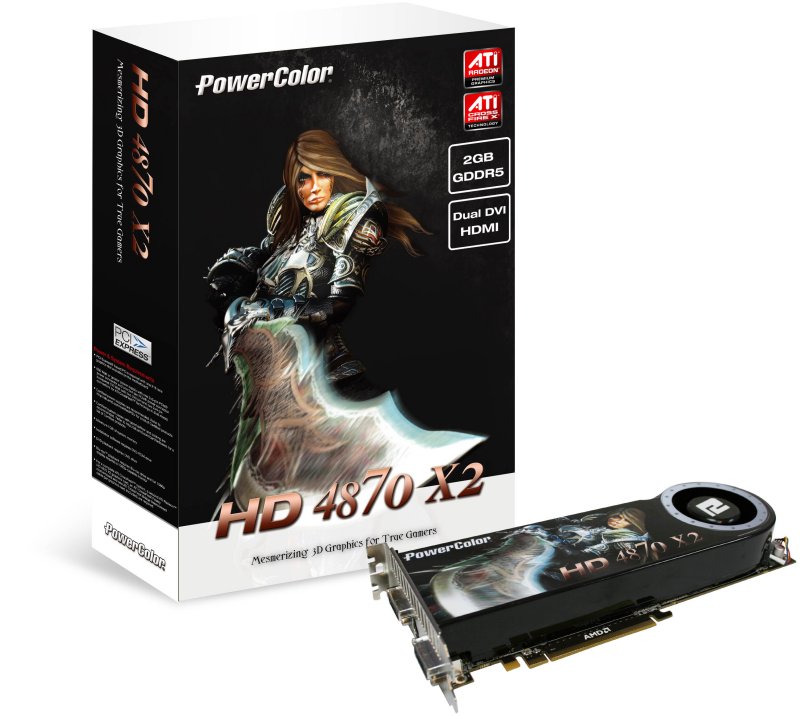 Taipei, Taiwan – August, 12th, 2008 – TUL Corporation – a leading manufacturer of AMD graphics cards today announces the king of graphics—HD4870X2, brings the fastest and the most powerful solution to all gamers. This stunning graphics solution boasts a built-in dual HD 4870 GPU, clocks at 750MHz core speed and 900 MHz effective memory speed, memory data transmission rates up to 3.6Gbps, delivers up to two times performance per watt of the previous generation.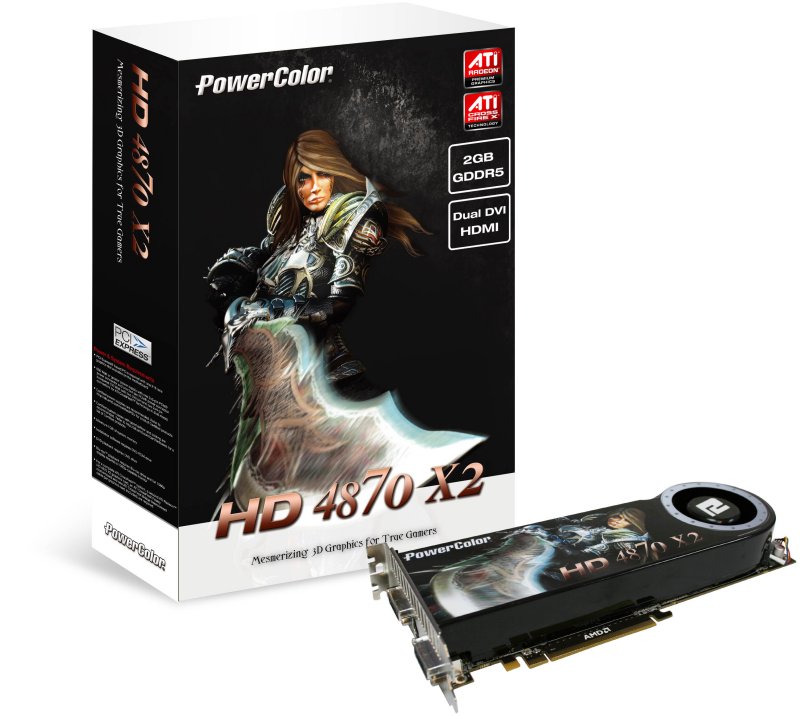 PowerColor HD4870X2 equips with the fastest GDDR5 memory and 2GB frame buffer, doubles the memory bandwidth of the previous generation. It's also built with 1600 (800×2) stream processing units and 2X256-bit memory bandwidth to take on demands of the latest 3D gaming. Furthermore, 2.4 teraFLOPS graphics engine brings blazing frame rates, putting the power of graphics 'supercomputing' in the hands of extreme gamers.
PowerColor HD 4870X2 2GB GDDR5 offers Microsoft® DirectX® 10.1, PCI Express® 2.0, built-in HDMI with 7.1 surround audio, Universal Video Decode 2, and also with the support for dual mode ATI CrossFireX™ multi-GPU, provides highly scalable performance.
"PowerColor HD4870X2 comes with plenty of innovative technologies," says Ted Chen, CEO of TUL Corporation. "All gamers should be excited about the announcement of the best solution ever."
Key Features
750MHz Core, 900MHz (3.6Gbps)Memory
2 GB of GDDR5 memory
2.4 teraFLOPS of GPU power
1600 (800 x2) stream processing units
2 x 256-bit Memory Bandwidth
DirectX® 10.1 support
Dual mode ATI CrossFireX™ multi-GPU support
Built-in HDMI and 7.1 surround audio
Unified Video Decoder 2 (UVD 2) for Blu-ray™and HD Video