(Auszug aus der Pressemitteilung)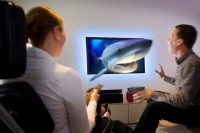 Berlin, Germany – Philips will demonstrate 3D on Blu-ray at IFA 2008 (August 29 – September 3). The demo shows that its 2D-plus-Depth content format can be applied to Blu-ray thereby enabling a great 3D movie viewing experience on a variety of displays.
With the growing amount of 3D movies currently on theater release, people now want to enjoy the 3D viewing experience in their homes as well. In order to bring high quality 3D content to the home, the 2D-plus-Depth format offers a solution that can be applied to Blu-ray. Subsequently, these discs can be enjoyed on both stereoscopic (special glasses needed) as well as auto-stereoscopic 3D displays, which do not require glasses.
Philips 3D Solutions provides end-to-end 3D system solutions ranging from 3D displays for professional use, 3D content creation and conversion tools to technology licensing. Jos Swillens, CEO of Philips 3D Solutions: "This demonstration of 3D on Blu-ray is a clear proof point of the flexibility and sustainability of our 2D-plus-Depth content format. It can bring high quality 3D content to the home on a variety of displays and offers a solution to the need for interoperability in 3D".
Philips 3D displays give the viewer an exciting, entertaining and engaging 3D experience making them ideally suited for professional use in digital signage for retail, point-of-sale advertising, gaming applications in casinos, games and 3D visualization. Thanks to the WOWvx technology used in Philips 3D Displays, no special viewing glasses are needed.
Alongside this 3D on Blu-ray demo, Philips 3D Solutions will be showing 3 new 3D display products for professional use, the 52", the 22" and the 8". These products will be commercially available from Q4 (52") and Q1 (22" and 8") onwards. The impressive 132" 3D WOWzone will also be on show at IFA 2008. All 3D demos and products can be seen in the Futurezone of the Philips booth, which is located in Hall 22A and B of the Messe Berlin, Germany.